Beer Asia's 'Thirsty At Home' campaign seeks to help our favourite bars, breweries and retailers deal with coronavirus fallout by keeping our thirsty fans well-stocked via solid delivery options!
As Vietnam faces a wave of Covid-19 control measures – from travel and visa restrictions to bar closures – our local craft beer businesses are under a huge amount of pressure.
This coronavirus outbreak comes at a particularly bad time for the industry: Vietnam's craft beer scene was already impacted negatively during January and February by new alcohol regulations.
Fortunately, the Vietnamese Government has won accolades for doing a great job managing the coronavirus situation, so, fortunately, we still have the option of ordering delivery from our favourite taprooms, bars, and craft beer speciality retailers.
As part of our 'Thirsty At Home' special series designed to help craft beer drinkers survive Covid-19 limitations, you can find a list of options for craft beer delivery in Saigon (AKA Ho Chi Minh City) below.
Ordering takeaway or delivery from one of these businesses isn't just about enjoying a refreshing lager or ale in the comfort of your own home.
It is really about supporting your friends and local businesses: helping ensure the vibrant scene of craft beer in HCMC can recover as quickly as possible from this challenging period.
Direct-From-Brewery Craft Beer Delivery
Rooster Beers
East West Brewing Company
Order from Taproom: +84913060728
Order via E-mail: info@eastwestbrewing.vn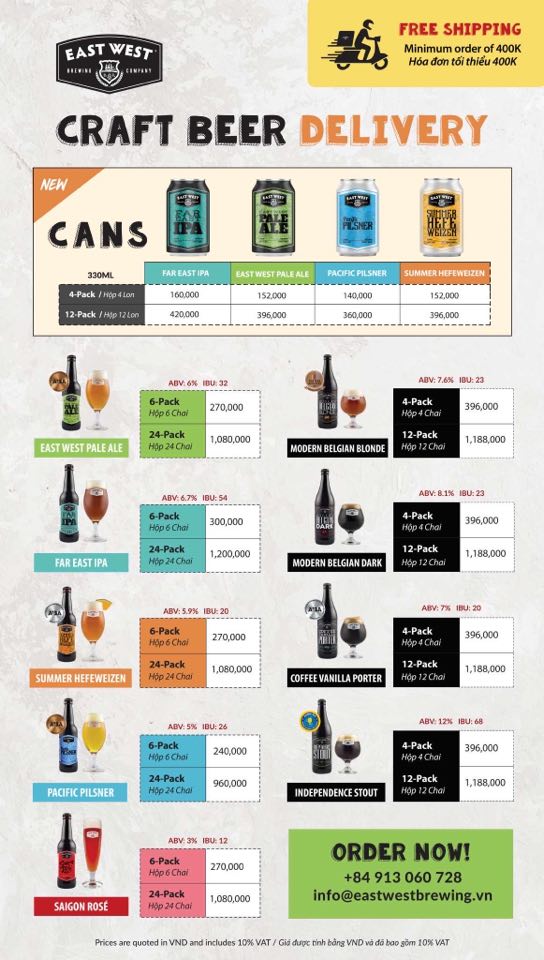 Pasteur Street
Order & Delivery Website (allows online e-commerce ordering)
Order Via Phone:
Original Taproom: 144-144/3 Pasteur, Ben Nghe, D1. 028 7300 7375
Le Thanh Ton Taproom: 26A Le Thanh Ton, Ben Nghe, D1. 028 6278 8895
Thao Dien Taproom: 120 Xuan Thuy, Thao Dien, D2. 028 6273 0562
Heart of Darkness
Order via Heart of Darkness' Facebook Page.
Order via Phone: +84903017596
Belgo
Order via Phone: +84931052901
Order via Facebook
7 Bridges
Customers in HCMC, Ha Noi, Da Nang and Hoi An can order a 6-pack at their choice (from a variety of 3 beers: Imperial IPA, Sunset Tangerine Wheat, and Heritage Blonde Ale). The set is priced at 390k/set and comes also with free delivery in HCMC.
Saigon Cider
Saigon Cider, Vietnam's pioneer cidery, is now delivering 6-packs directly to cider-lovers in the Saigon central districts.
BiaCraft Artisan Ales
Hoprizon Craft Beer
Order via Facebook.
Order via phone: +84906915880
Retailer Beer Delivery
Beervana
Beer Fridge
Is your brewery, bar or shop delivering craft beer to craft beer fans in Saigon? Drop us an e-mail or Facebook Message and we'll feature you!