My nephew turned twenty years old last summer. Since I am considerably younger than both my siblings, my nephew's father included, I was but a fresh-faced teenager myself when he was born. I distinctly recall being instilled with a genuine sense of pride upon hearing the good news, as if I had personally achieved an extraordinary feat, one that none of my peers would be able to rival for many years to come. Only sixteen and already an uncle ˗ now that would surely endow me with an aura of maturity!
And weren't girls supposed to be crazy about babies? Visions of my nephew and I being accosted by a ceaseless flow of bright-eyed damsels every time we ventured out together sprung from my frontal cortex, along with a steadfast commitment to ensuring the boy's alcohol tolerance would reach respectable heights by the time he himself was halfway through secondary school.
Moreover, taking into account that I was just over half my brother's age at the time, it only seemed natural to me that I would turn out to be a bridge between the boy and his parents whenever generational tensions arose. Naive as I was, I could not help but foresee the evolution of a perfect symbiosis in which my own personal role would prove to be instrumental. All in all, there was plenty to look forward to.
The universe, in true fashion, had altogether different designs. For starters, it would soon become painfully apparent that most teenage girls find babies rather unnerving, and the little attention my nephew and I received on our sporadic walks through the botanical gardens across the way from the family home in the Netherlands generally came at the hands of elderly ladies who professed to not seeing their grandchildren as often as they would have liked. It was either that or begrudging glances from middle-aged women with an unfulfilled desire to have a child of their own.
But more so than anything else, it was sheer physical distance that would end up putting a damper on the manifestation of my daydreams. Throughout much of my nephew's preadolescence (and that of his sister, who came into our lives two years after he did…), my brother's branch of the family resided on a different continent and we rarely saw each other more than once a year as a result. Despite their joyous nature, these scarce interactions were invariably delicate affairs during which I was required to comply with a long list of nurturing guidelines that, quite frankly, did my head in.
The primary role of an uncle, as defined by my brother and sister-in-law, was to set a good example and this was evidently impossible unless I acted in full accordance with their chosen approach to parenting. For instance, there was a phase of constant reminders to keep one hand on the rail whilst walking up or down a flight of stairs. At some point, having lost my cool after a string of failed attempts to pause the soundtrack of incessant bickering that had been on repeat longer than I cared for, it was also made clear that I was not to raise my voice in front of the children. However, I could expect to be admonished in their presence whenever my brother or sister-in-law deemed my behaviour unworthy of a designated role model.
I remember one occasion – my nephew must have been eight or nine at the time – when I was scolded for unfastening my seatbelt before the car we were travelling in had come to a complete standstill. For the record, we were already on the driveway of the house they inhabited at the time, right underneath the roof of the bloody car porch.
My parents and I were even forbidden from speaking Dutch to the children as this would supposedly impede their ability to excel at the beta subjects further down the line, a curious conclusion to reach considering my brother was raised in a trilingual household and makes his living as a petroleum engineer. I'm sure my brother and sister-in-law had valid reasons but their thirst for total control in each and every aspect of their children's lives led me to perceive unclehood as a task in place of a privilege.
As disgruntled as I may come across, I would like to stress that I did truly cherish those sparse moments we spent together as a family. Despite their newfound idiosyncrasies, I still looked up to both my brother and sister-in-law and it only seemed natural that I respectfully follow their lead, especially when under their roof. Besides, our annual gatherings hardly ever spanned more than two weeks anyway. There was always way too much to do in far too little time for tempers to boil over and any recurrent irritations on my part were long forgotten ahead of the next encore.
This cycle repeated itself until my nephew started secondary school. While he was entering a new phase of his existence, I made the decision to flee the comfort and predictability of mine. My escape to Southeast Asia meant that our visits to the family home did not coincide for the following four years. I was sure to contact the children on their respective birthdays, over the Christmas holidays, and when they were staying with their paternal grandmother but, intermittent long-distance calls aside, there was not much of a relationship to speak of. It was becoming alarmingly clear that, no matter how much I knew about them, the connection between us was awkward at best. So much for being an intergenerational intermediary…
Nevertheless, without a hint of involvement from the uncle I had envisaged myself evolving into all those years before, one of my teenage reveries did indeed come to fruition. By the time I moved back to the Netherlands, my brother et al had also settled there. Temporarily, it would turn out, but for an entire year we all lived in the same country – and a small one at that. All of a sudden, I was able to spend some time with my niece and nephew at least once a month.
My nephew had already turned sixteen and displayed a passion for getting drunk with friends on weekends that equalled mine when I was his age. With the expectations of his parents still looming over me, I was careful not to encourage these exploits but could not resist applauding some of the anecdotes he shared with me in confidence, usually over a beer. In turn, I happily shared plenty of tales of my own, including the odd grim one to remind him that fun and games regularly result in drama and despair.
The more we saw of each other, the more comfortable we came to feel around one another. Now that we were growing closer, I started genuinely appreciating my nephew for the young man he had become. Finally, we were getting somewhere!
Over the past few years, ever since my brother and his family successfully executed another getaway to greener pastures across international borders, the bond between my nephew and I has continued to strengthen. In many respects, I find it easier to relate to him than to my own siblings and hope that he too sees me, first and foremost, as a friend.
Last summer, after celebrating his twentieth birthday at the family home in the Netherlands, my nephew spent a couple of weeks sojourning with friends on the shores of the Tegernsee in southern Bavaria. On his way back to the United Kingdom, he stayed with his grandmother and I for another week. His return was greatly anticipated for all the obvious reasons and, in addition, he had promised to haul a selection of authentic Bavarian brews along with him on the train.
At the insistence of his generous and cultured hosts, he would ultimately show up at our doorstep with four half litre bottles of Tegernsee Hell, two half litres of Spaten Oktoberfestbier, one half litre of Augustiner Hell, one Paulaner Hefe-Weißbier, one Mariensteiner Weißbier Hell, and two three-hundred-thirty millilitre bottles of Weltenburger Kloster Asam Bock. The legend! Supplemented with less exotic local beers ˗ Grolsch swing-top bottles, to be specific ˗ we managed to stretch the aforementioned assortment over multiple sessions. I would highly recommend every single one of these beers to anybody but will limit my rhapsodies of praise to the two that surprised me the most.
Mariensteiner Weißbier Hell
The Mariensteiner Brauhaus (brewery) is based in the village of Waakirchen, no more than a handful of kilometres north-west of the upper reaches of the Tegernsee. The brewery itself is a small-scale operation where an artisanal brewing process is applied to create a unique beer using natural and regional ingredients only. Regional meaning Bavarian, for the Hallertau hops and barley malt used are sourced from Upper Franconia, some two hundred kilometres to the north. Natural in the sense that neither hop extracts nor artificial stabilisers are infused into the concoction.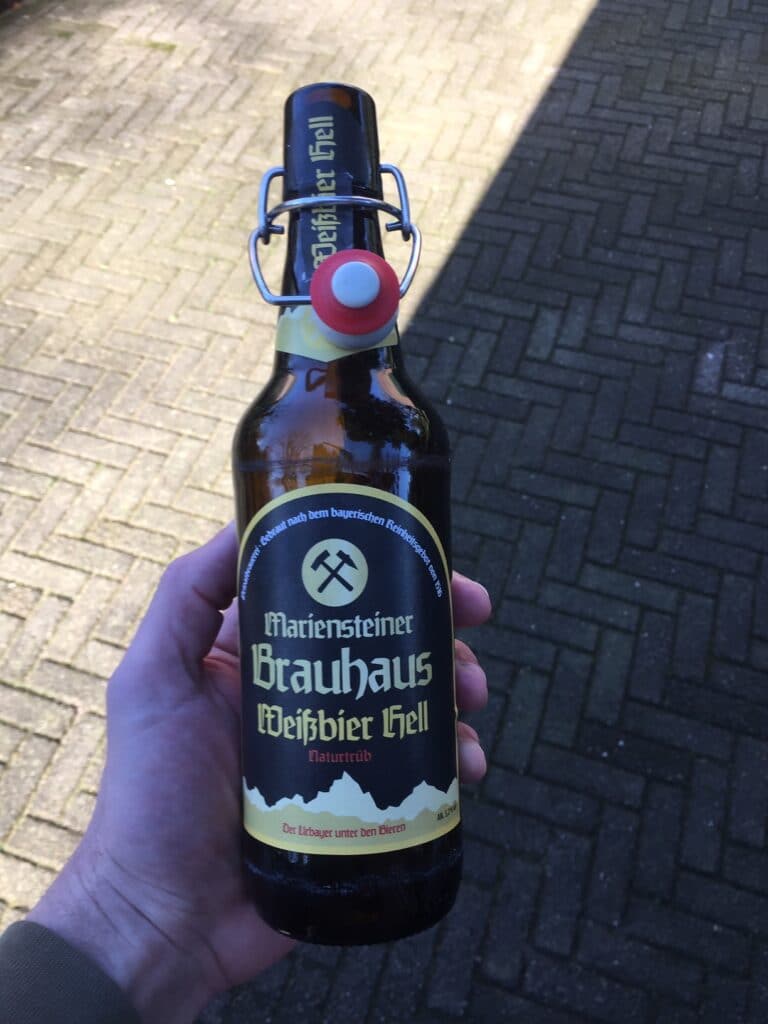 Be that as it may, having popped the stately swing-top bottle adorned with a splendid quasi-Gothic font, contours of a mountain range, and a logo consisting of a sledgehammer and hammer with chisel positioned to form an X-shaped cross, my nephew and I were nothing short of disgusted at the sight of the pour. The utilisation of dark wheat, in combination with low carbonation, gives the beer a cloudy golden tone somewhat reminiscent of apple juice with baby sick floating in it
Thankfully, it only took a reluctant whiff and a single hesitant sip for us to dispel this correlation and fully embrace the Mariensteiner's pleasant aroma with hints of clove and pear, its mildly fruity, slightly sour taste accompanied by the silkiest of palates, and the dry, wheaty finish that rounds it all off. From the moment we had finished the sole bottle in our possession, we were craving for more. This craving has yet to be stilled.
Weltenburger Kloster Asam Bock
In a similar case of faulty first impressions, our taste buds were equally electrified by the Weltenburger Kloster Asam Bock. For those of you unfamiliar with the concept, traditional German bock beer is a bottom fermenting lager that is typically kept in cold storage during the winter months to smooth out the intense flavours that develop during the brewing process.
Legend has it that this style first originated in the town of Einbeck in central Germany during the fourteenth century and slowly but surely gained wider, inter-regional acclaim. Due to subtle language differences between the various regions of which modern-day Germany is comprised, the pronunciation of this beer from Einbeck was misconstrued by the Bavarians ˗ folk that dwelled distant lands located hundreds of kilometres to the south ˗ to sound like "ein bock", meaning "a billy goat". The name stuck, as did the brewing tradition.
Bavarian monks have been producing this strong, dark amber beer since the seventeenth century and consistently enjoy more than their fair share throughout the course of Lent, a forty-day period of prayer, fasting and almsgiving that coincides with the end of winter. Hence, bock beer is commonly referred to as "Das flüssiges Brot", or "the liquid bread".
Technically, the Asam Bock is a "Doppelbock" (double bock beer). It is the strongest beer in the Weltenburger family with an ABV of 7.3% and since neither my nephew nor I are particularly fond of sweet, weighty brews, we purposely opened the first bottle at the very end of our inaugural session that week. At that point, we were sufficiently merry to take everything in our stride, a drop of doppelbock included.
I was immediately struck by a viscous dark mahogany pour so clear that it emanates a faint ruby glow when held to the light. The odour of roasted malts and dark fruits, complimented by significant earthy notes, that rose from my glass did justice to the intense colour of its contents. The taste of said contents follows the nose to reveal a rich, sweet character that is deftly balanced against some bitter, earthy hops which, although subdued, help to dry out the finish and prevent the sticky aftertaste inherent to every bock I had sampled in the past.
Admittedly, my list of conquests in the bock department is unimpressive but I am certainly more inclined to be adventurous now that I have tried the Weltenburger Kloster interpretation of that age-old recipe from Einbeck. My nephew confessed to being pleasantly surprised by the Asam Bock as well, just not to the extent that he was in the mood for more, and the second bottle thereby remained sealed until several days after his departure.
Apart from bringing forth an extremely satisfying doppelbock, the Weltenburger Kloster's claim to fame stems from the assertion that it is the oldest continuously operating monastery brewery in the world. The monastery, or kloster, is situated directly at the entrance of the Danube Gorge in central Bavaria, circa one hundred kilometres north of Munich. As the story goes, it was founded in the seventh century by wandering monks from Ireland and Scotland, making it the oldest monastic settlement in Bavaria. The rules of St. Benedict were adopted in the ninth century and seven Benedictine monks still inhabit the monastery today.
As you may have gathered from some of the other chronicles in this series, wherever the Benedictines settled, beer was brewed in abundance. The brewery at Weltenburg has been up and running since the eleventh century but is no longer manned by monks. The monastery brewhouse underwent a change of management in 1973 when all brewing rights were assigned to the Bischofshof Brewery based in the nearby city of Regensburg.
A total of ten Weltenburger Kloster beers, including the Asam Bock, are produced at the brewhouse while five more are brewed at company headquarters in Regensburg and sold under the detached 'Weltenburger' label. From the stalk to the glass, nothing is left to chance. All raw materials are sourced from long-standing regional partners and carefully analysed in the brewhouse laboratory prior to processing. Needless to say, analytical and sensory controls are conducted at every subsequent stage of the brewing process so that the highest of quality standards are guaranteed.
Sheltered beneath old chestnut trees and surrounded by the reputedly impressive Baroque architecture of the Asam brothers, the monastery tavern and its adjacent beer garden are known to offer real Bavarian hospitality in a unique environment. An underground pipe leads straight into the tavern from the brewhouse storage cellar, and connoisseurs claim that this feature makes the monastery grounds the optimum spot to enjoy an Asam Bock.
My nephew used similar superlatives to describe a Bräustüberl, or brew pub, located inside the same building that houses the main production facility of Tegernsee Hell. It sounded awfully enticing, as does the prospect of pulling an all-nighter at the Weltenburger Kloster tavern and watching the morning fog ascend the seventy-metre high rock faces of the Danube Gorge. During our sessions that week, my nephew repeatedly suggested that I tag along on his next excursion to Bavaria. I think I may very well do so, but not because he needs his uncle to act as a chaperone – I will gladly join him because I really want to.