Over three months had passed since my thirty-sixth birthday before the assortment of craft beers that my big brother had gifted me for the occasion ran dry. This abstemious approach can, initially, be attributed to an unfeigned enthusiasm at the prospect of savouring each and every one of the eighteen brews in question, writing glorious reviews on all of them as I went along. And so I photographed the labels of the bottles I consumed, took notes on the distinguishing characteristics of their respective contents, and rated them on a scale of 1 (unforgivable) to 10 (heavenly). The more I sampled, however, the less difficulty I had abiding by my self-imposed austerity measures.
Craft Only
It had all looked so promising at the outset. Imagine my delight when, on the morning of my special day, a parcel in the form of a big cardboard box flaunting the words "Craft Only" was delivered to my doorstep. Upon further inspection, it would become evident that Craft Only is an online store with a comprehensive catalogue of craft and speciality beers produced in the Netherlands.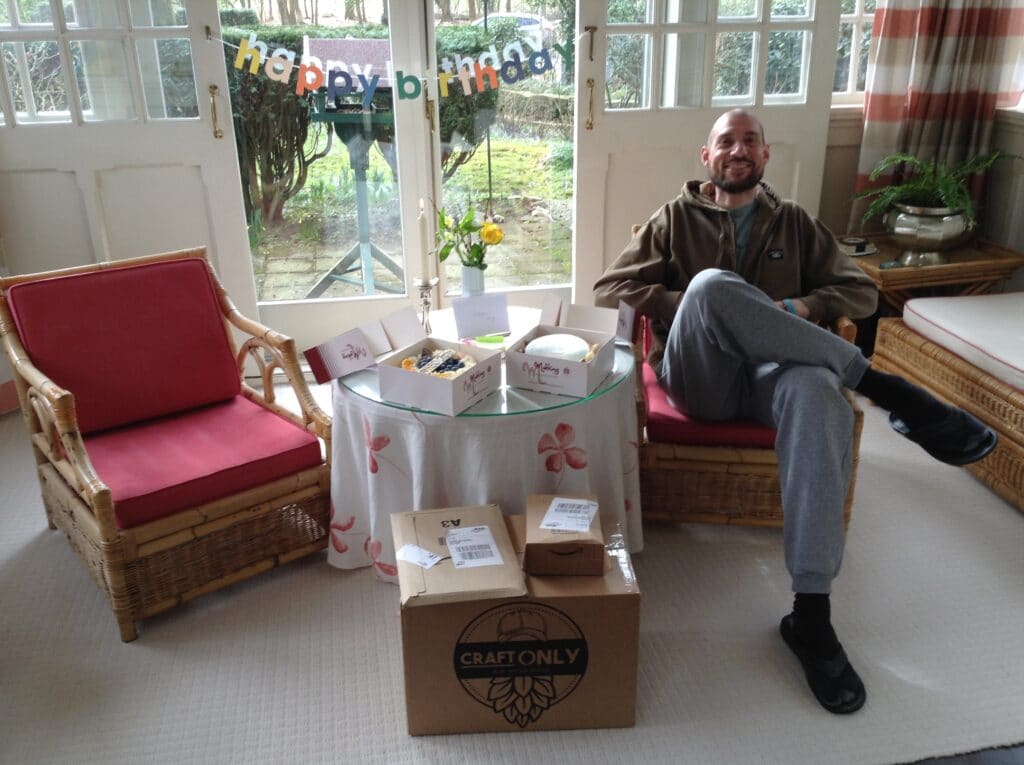 My ardour only grew when I found their mission statement refers to the promotion of "real beers with a story" and "craft not crap". It goes without saying that, at my "advanced" age, I am no longer inclined to ingest copious quantities of crap for the sake of a buzz and, as an aspiring writer, I have always been a sucker for a good story. The same applies to aesthetics, and the art work integrated into some of the bottle labels intrigued me as well.
Brothers In Law – East Coast Porter
The first bottle to be opened was the East Coast Porter brought forth by the Brothers In Law Brewery of Amsterdam. A heavier and more intense variant of the common porter, this brew has an ABV of 7.7, a colour units EBC (European Brewery Convention) of 76, and a measurement of 32 on the International Bitterness Units (IBU) scale. In layman's terms, it is dark as night, fairly sweet and pretty damn potent. Its warm and roasty flavour reminded me of Vietnamese coffee, that is to say, deliciously imbued with chocolate.
The slogan of this delightful number is straightforward – "After a day of hard work, come together, be yourself and enjoy this Porter!" – and can be duly attested by my dear friend Tobias, whom you may recall for his integral role in a preceding chronicle of a memorable trip to Berlin. On the anniversary of my emergence, he dropped by the house after a long day of physically strenuous work, sunk a glass of East Coast Porter, and gave his seal of approval. Hence, 8.5 was deemed a fitting grade.
Muifel – Zuster Agatha Quadrupel
Feeling rather elated in the wake of the stirring curtain raiser, I could not resist cracking open one of two Quadrupels thrown into the melange later that very same evening. Previously unfamiliar with the concept, the Zuster (Sister) Agatha Quadrupel would prove to be my first taste of beer with an ABV of 10.
Concocted by the Muifel Brewery in the tiny settlement of Megen, of which I had also never heard, this brew is suitably described by its makers as a "rich, Dutch quadrupel that owes its full, complex taste and beautiful red-brown colour to the utilisation of a variety of dark malts." Its robust palate and mild, smokey finish were particularly well received in the 2015 edition of an annual competition organised by three local newspapers in the southern province of Noord (North) Brabant, where it was pronounced the region's most savoury beer. I suspect this is, to some extent, down to a lack of competition but the Zuster Agatha Quadrupel is tasty enough to command a 7.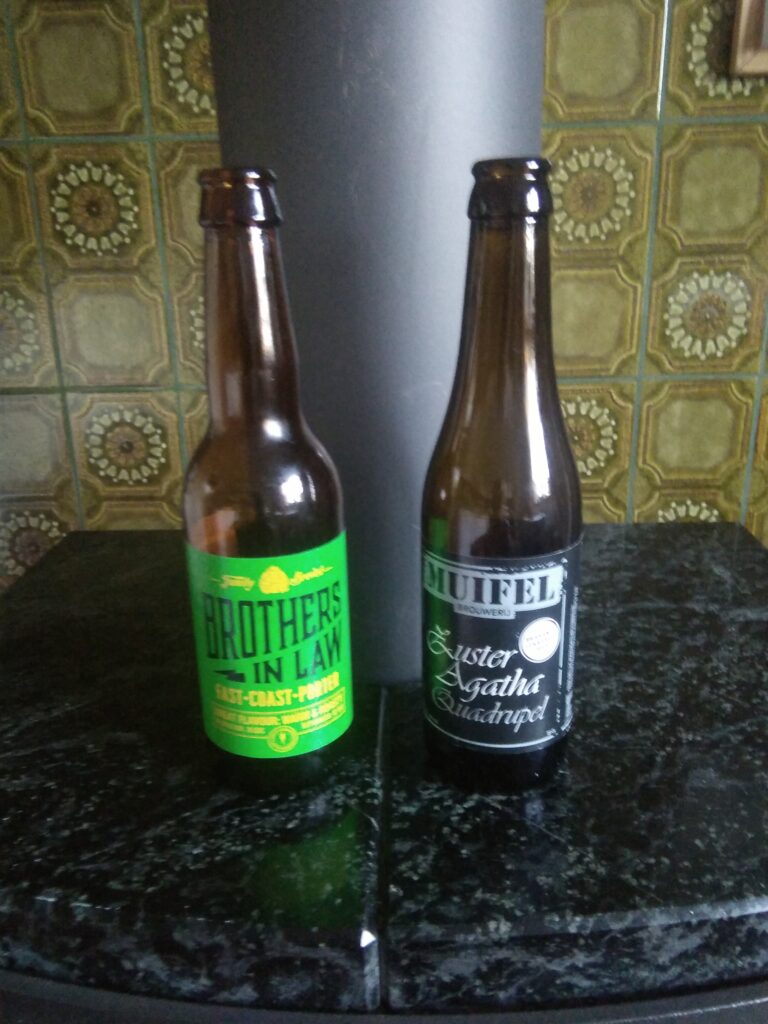 'Brabant'
Before I continue to impart my thoughts on the main topic at hand, I would like to take a moment to expand on my reasons for specifically mentioning North Brabant in the previous paragraph. Those of you who have ever caught glimpse of a map of the Netherlands may have noticed that the country is essentially split up by three major waterways flowing from East to West; the Rhine, the Waal, and the Meuse. This natural divide simultaneously represents a historical and cultural partition that has existed since the rise of Calvinism in the sixteenth century.
A believer in the separation of church and state, Calvin's reformist Protestant teachings permitted revolt against power under certain conditions – unlike the reigning Catholic and Lutheran dogmas of the time – and gained much popularity in the low lands during the Dutch uprising against Spanish rule. However, the diffusion of Calvinist doctrine was largely confined to the regions north of the three rivers while those located to the south remained under the influence of the Catholic Church. The latter applies to North Brabant, generally referred to as Brabant, of which the northern border traces the southern bank of the Meuse.
While the eras that followed were defined by maniacal dedication to the fulfilment of capitalist desires through warmongering and colonisation, Calvin's teachings were revived in the late nineteenth century and gradually adopted as part of the national identity of the Netherlands.
In spite of a strong backlash against Calvinism's rigid conservatism in the 1980's, the long-term effects of its tenets keep on manifesting themselves to this day. The prohibition on Sunday work may have been lifted and prostitution was legalised decades ago but, certain liberal tendencies aside, the Dutch are still widely perceived as a sober, reserved, conscientious, rule-driven, and thrifty nation; all typical Calvinist characteristics.
Those that hail from Brabant, however, are adamant they are of a different breed altogether. Clinging to their Catholic roots, they proudly profess to leading a Burgundian way of life with Carnival as the highlight of the year. In practice, I myself can hardly tell what sets them apart from the rest of "us".
What I do find strikingly obvious is that Brabant's vicinity to Flanders, or Belgium as a whole, has had a profound effect on its beer culture. Some of the Netherlands' most recognisable beers, such as La Trappe, are brewed in Brabant and the same goes for ten of the eighteen bottles in my birthday parcel. When considering the province covers no more than one-sixth of the country in terms of size and population, it is safe to say that they take their beer very seriously down there.
100 Watt – 150 Watt Quadrupel
With that being said, let's get back to talking beer. The second Quadrupel, 100 Watt Brewery's creatively christened 150 Watt Quadrupel, remained untouched for an entire month. In this "complex ruby red beer with a powerful body, you will find notes of dark dried fruits and slightly toasted bread, followed by a rather long and soothing aftertaste." Sounds appetising, doesn't it? The label goes on to proclaim: "This winner has got it all!", referring to 150 Watt's triumph in last year's Dutch Beer Challenge when it was declared the best brew in the entire kingdom.
Personally, I prefer the Zuster Agatha but it should be mentioned that my bottle of 150 Watt had chilled to several degrees below the recommended serving temperature of 10 – 12°C by the time I got round to drinking it. Assuming its purportedly exotic flavour is bound to be more notable under ideal conditions, I opted for the munificent angle and gave it a 6.5.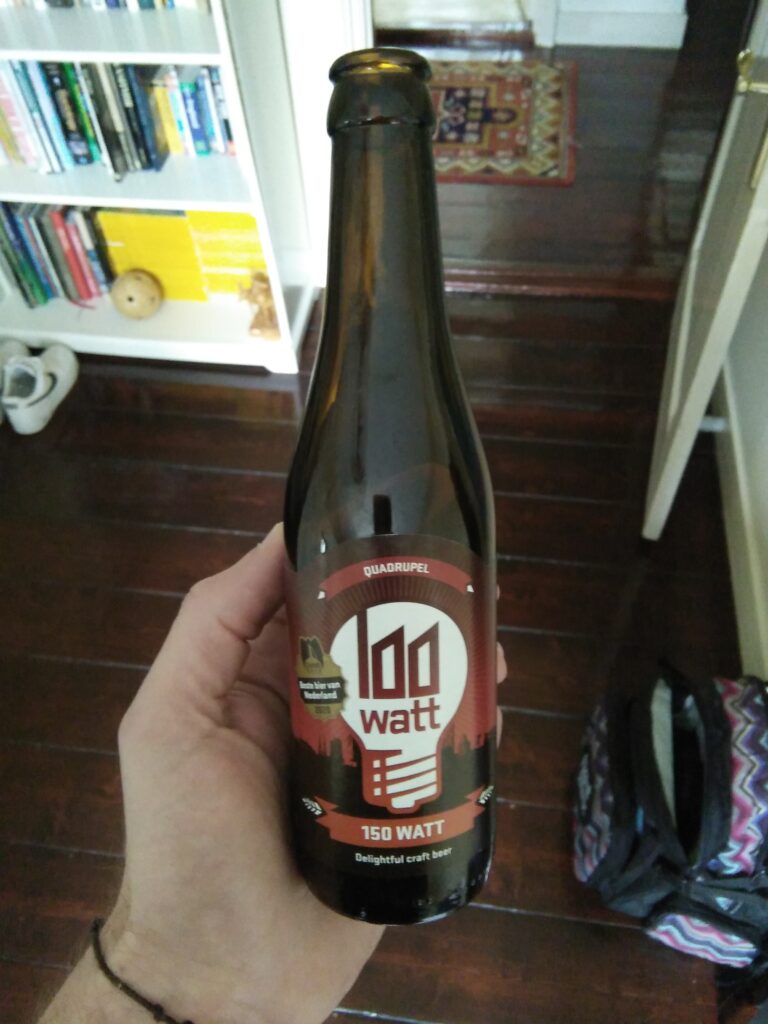 A Selection of Also-rans
At this point, with twelve bottles down and six to go, I judged myself sufficiently versed in the Dutch craft beer scene to conclude that the crowning of mediocrity is not so much the outcome of a lack of competition as it is a consequence of uninspired opposition. Most of the beers I had tasted since my birthday had turned out to be decidedly average and their corresponding "stories" conducive to vicarious shame.
Schelde – Dulle Griet Dubbel
Take the Schelde Brouwerij (Brewery), for instance; founded more than a quarter century ago in the Brabantian town of Bergen op Zoom, forced to establish their operations no more than a dozen kilometres to the west in the neighbouring province of Zeeland, and currently situated in an industrial estate just across the border with Belgium, roughly thirty kilometres east from where it all started.
These globetrotters claim to have named their chestnut coloured Dulle Griet Dubbel after a canon that was transported south to the Flemish city of Ghent in 1578 in a failed attempt to ward off the Spanish aggressors. An interesting fact, without a doubt, but had I refrained from taking notes it would have probably slipped my mind by now.
Alternatively, they could have intimated an infamous figure of Flemish folklore, anglicised as 'Dull Gret' and also known as 'Mad Meg', who is the subject of a painting from 1563 in which she is depicted as a heroin who leads an army of women to pillage Hell. Now there's a captivating story, if you ask me.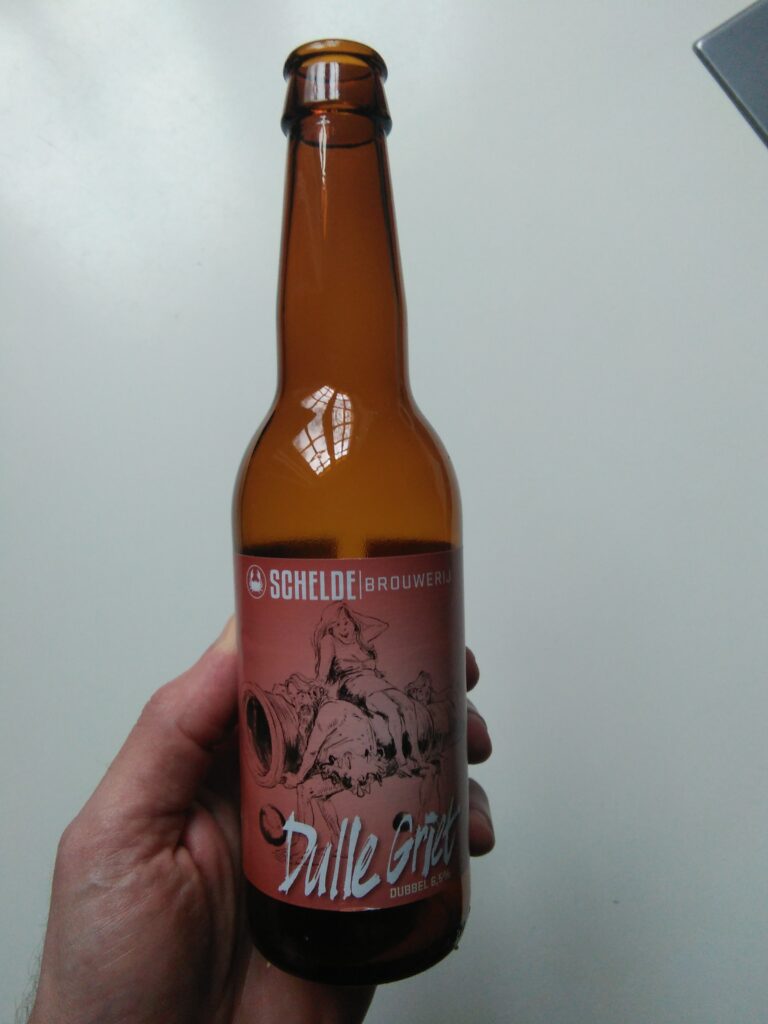 Waterland – Kattekwaad Amber Ale
Then there was the Kattekwaad (Mischief) Amber Ale by Waterland Brewery, an organic beer portrayed as having a "velvety body and lush flavour with undertones of willow bark" which I marked down as the epitome of blandness. In other words, a 5.5. That grade is likely to have been lower had I not already taken a sip before reading the following: "Kattekwaad is willing and naughty by nature but will pleasantly surprise you, for this unruly kitten is no angry tomcat…" – utterly cringeworthy, in my opinion.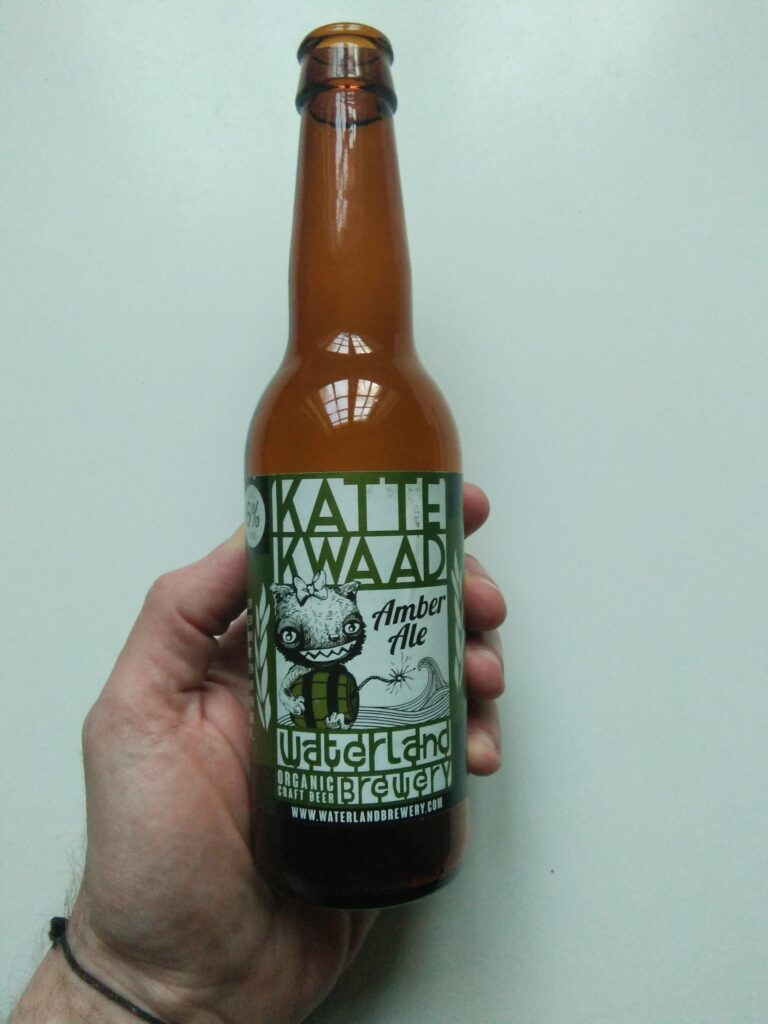 Stadsbrouwerij 013 – White King Wheat
Not to forget the Stadsbrouwerij (City Brewery) 013 and their unpasteurised, unfiltered White King Wheat. Inspired by a revered royal of days long gone, the back-of-bottle label eloquently delineates the image depicted on the front – "About the beer: King Willem II in front of his white palace on his white steed. Tilburg (Brabant), home of the king (as well as the brewery under consideration). Unfortunately, the construction of the palace was only completed three weeks after his death in 1849."
Let there be no misunderstanding: The clarification was genuinely appreciated, otherwise I would not have had a clue whom I was looking at, but is this far-fetched homage to what was once Tilburg's most outstanding resident really the best they could come up with?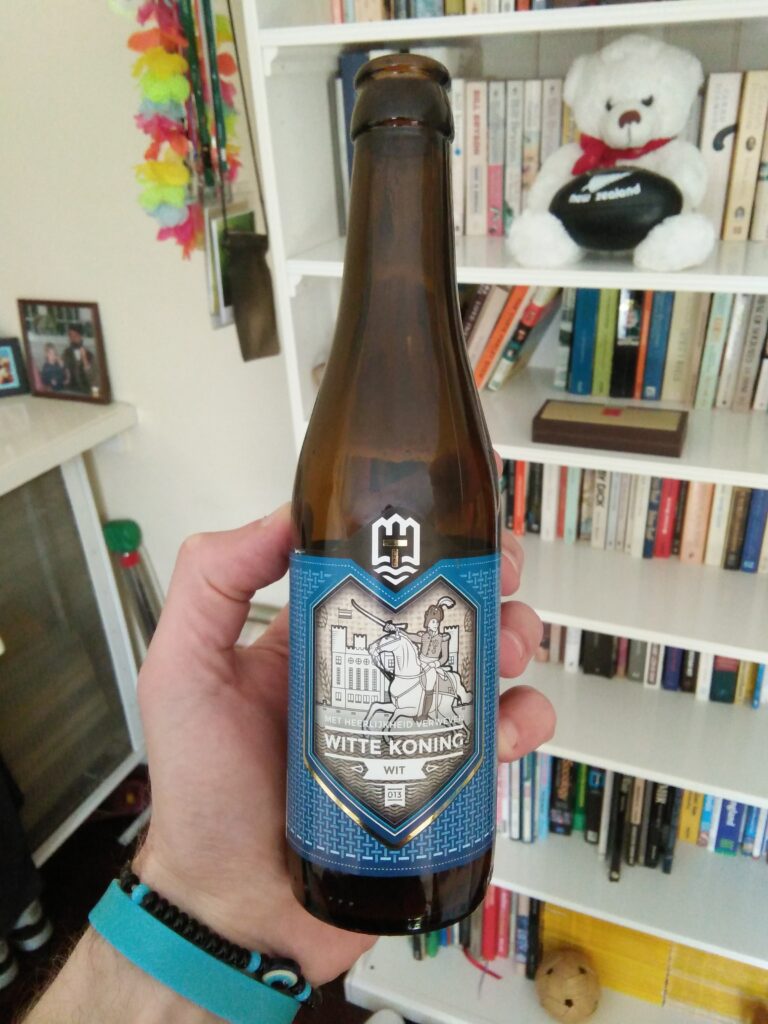 Solo Beer
Thankfully, there are more highlights to speak of too, such as Solo Beer. This one-man show from Gemert, another obscure town in Brabant, has created a splendid organic Blond with an ABV of 6 that is prepared using the equipment of other brewers in the area in order to meet growing demand.
Furthermore, the brewer appears to eschew conventional visual marketing techniques. The beer's logo is its name in bold capitals, the only distinction being a pair of inverted E's, and the accompanying text a lucid outline of what the buyer may expect – "Blond beer with aromas of fresh bread. Clear malt taste with fresh citrus fruit and hops. Powerful and fluent in the aftertaste. A blond beer with character." Absolutely spot-on and therefore deserving of a 7.5 in my book.
Solo Beer's website is equally plain and unpretentious, and I was particularly charmed by the final line in the 'Our story' section: "My dreams grow bigger with each passing day and so the story continues." When one actually has a solid product to fall back on, words need not be wasted.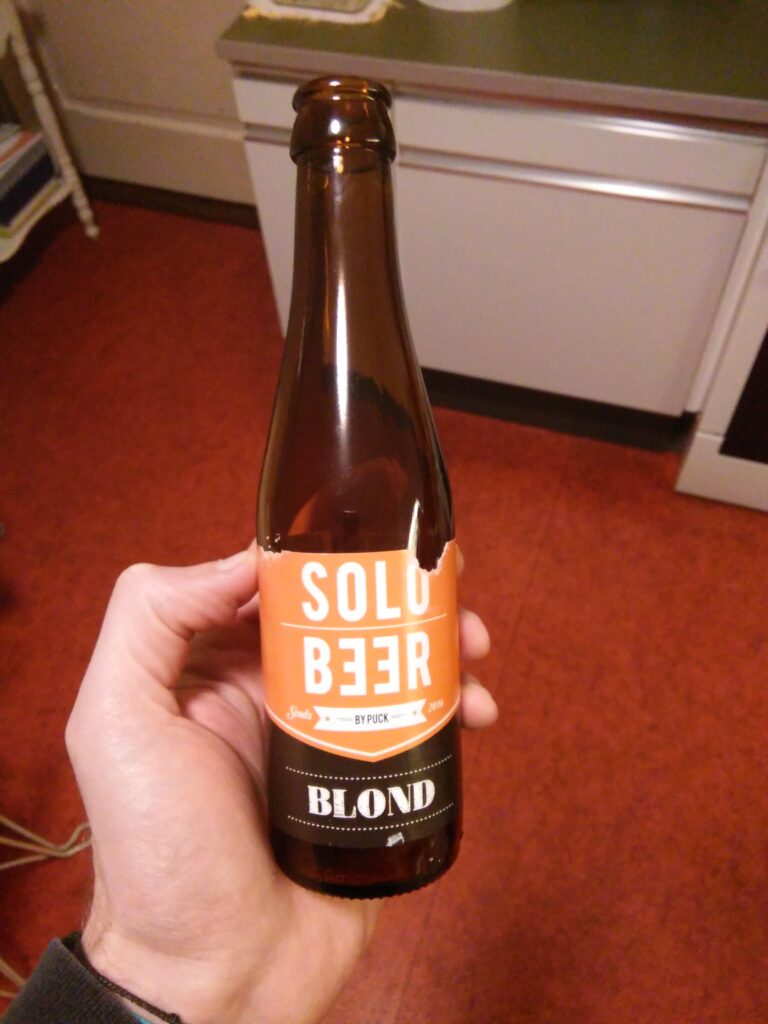 Oersoep – Freewheel White Saison
Although the remaining six bottles at my fingertips would provide a greater level of piquancy than the majority of their predecessors, the supplementary stories shared did very little to spark my imagination. I was perhaps least impressed by the message behind Oersoep (Primal Soup) Brewery's Freewheel White Saison, namely: "Let's celebrate cycling! Be healthy, be active and be free." A commendable initiative, that is beyond question, especially in this day and age, when both obesity and mental health issues are becoming increasingly prevalent among the Dutch population. Nevertheless, I prefer to drink in a stationary state.
Random rallying cry aside, Freewheel's dry texture and hoppy citrus flavour with hints of coriander make it a satisfying thirst quencher, and its colourful, cycling-themed design is snazzy enough to warrant a 7 overall. Little did I know, at the time of grading, that Oersoep in fact organise an annual one-day cycling tour not too far from where I live. Had they mentioned this on their label, the whole concept would have made much more sense to me from the start.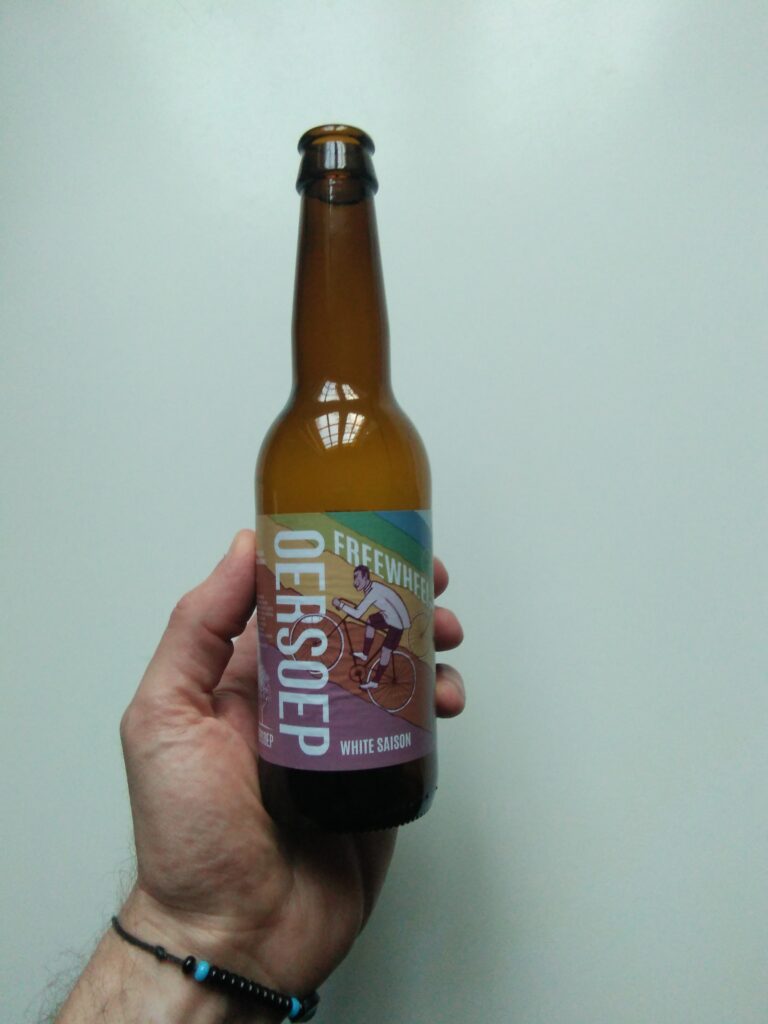 Bird – Nog Eendje Funky Blond
Another inclusion that managed to tantalise my taste buds between sighs of exasperation was the Nog Eendje Funky Blond by Bird Brewery. The beer's name is a pun on the Dutch expression 'Nog eentje' (One more), with the second word being replaced by the similar sounding 'Eendje' (Little duck). As you may have guessed, a duck adorns the label of this fruity blond with traces of caramel and fresh hops that won the gold medal for Belgian Style Ale at the 2019 World Beer Awards.
It should also come as no surprise that the Bird Brewery crew could not help but flaunt their capacity for cunning wordplay in the Nog Eendje jingle – "Who will you drink one with? And another little duck? Sure, (I'll have) another little duck." Judgemental as I can be, I do try to avoid being petty and cannot deny that this ale is worthy of a 7.5 even though I clearly do not subscribe to the brewers' sense of humour.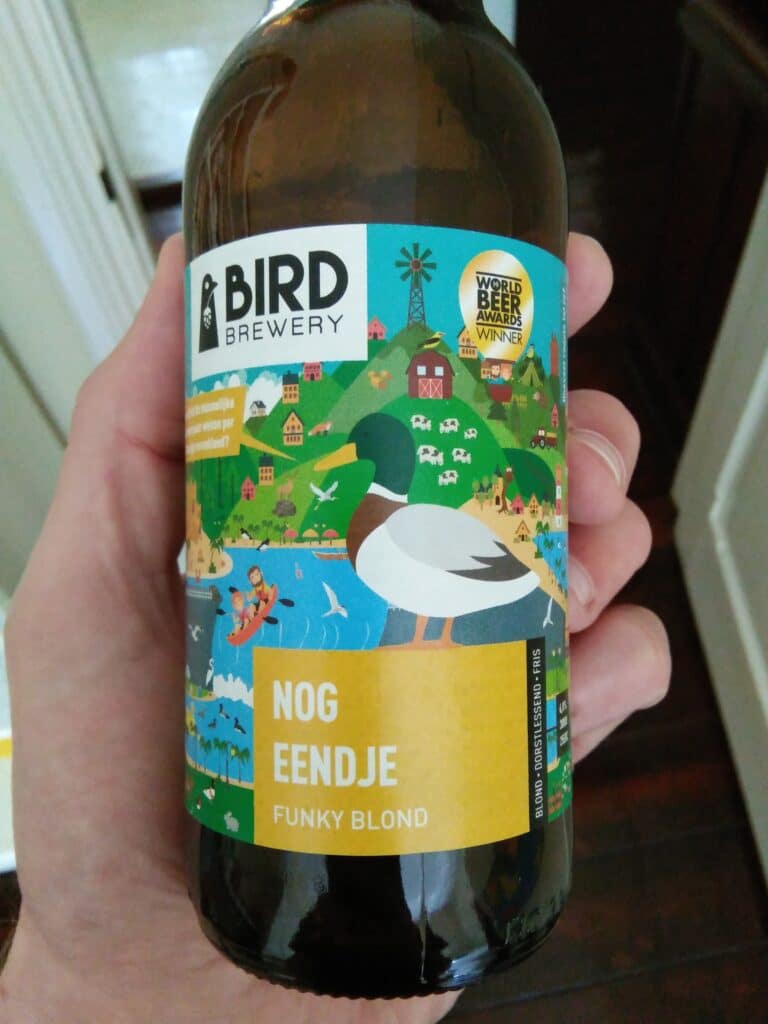 Van Moll – Langharig Tuig Hoppy Weizen
Apart from the previously introduced East Coast Porter, my Craft Only fun box contained one other 8.5 which came in the shape of Van Moll Craft Beer's Langharig Tuig (Long-haired Scum) Hoppy Weizen. Originating from Eindhoven, Brabant's largest city, this refreshing brew with hints of banana, citrus and clove combines proper German Weizen yeast and fruity American hops to create a truly enjoyable drinking experience.
My enthusiasm was only enhanced by the fact that the term langharig tuig is used as a badge of honour by heavy metal music fans, as explicitly stated on the bottle's label. Other than that, Van Moll's mantra – "Stay curious. Embrace the unknown. Open up." – is somewhat cliché but it did not make my toes curl, which is more than I dared hope for at this stage.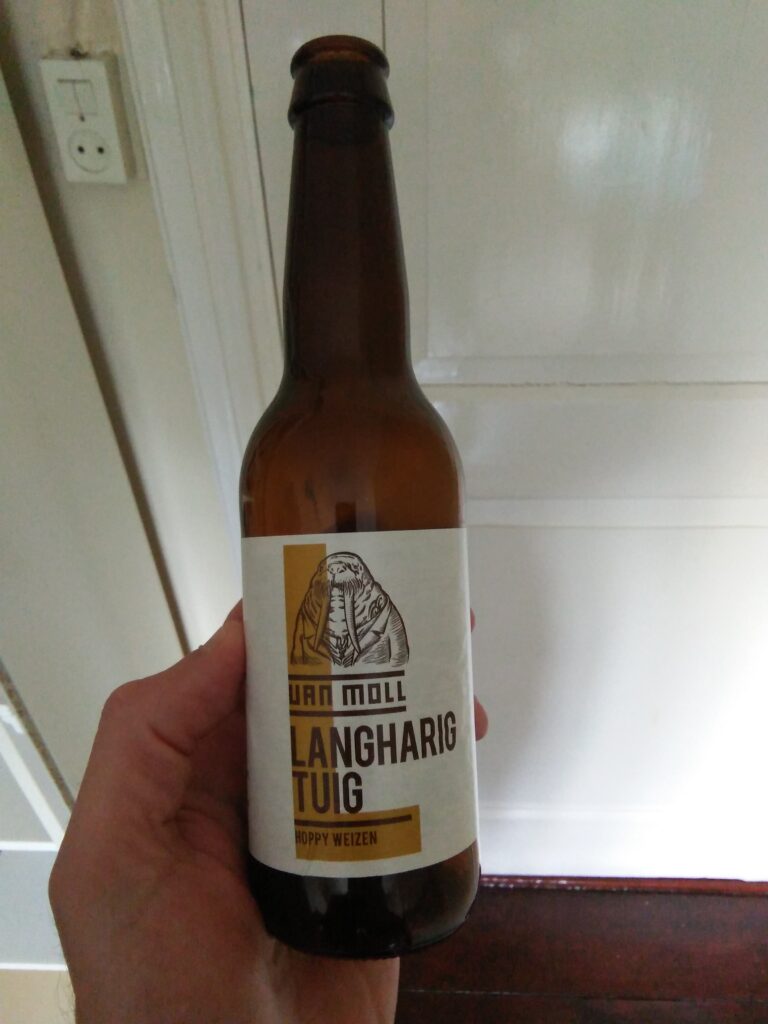 Rabauw and the Vagabond Foundation
Through all the background research conducted in preparation of this chronicle, I would eventually find out that the Craft Only depot is based in Gemert, a mere two hundred metres up the road from the original Solo Beer production unit, and is a component of the Vagabond Foundation. Dedicated to enhancing the employment prospects of disadvantaged individuals through the provision of professional guidance in a stable work environment, the foundation also runs a small brewery that has been operational since September 2019.
Originally known as Vagabond Socially Crafted Beer, the brewery was forced to alter this moniker within a year of its inception after a trademark infringement claim was raised by the Brauerei Vagabund of Berlin and is thus presently called Rabauw Craft Beer. Rabauw is set to open a second, larger brewery in Eindhoven this summer so that the reach of their noble cause may be widened. Great story, right? Not compelling enough to put on a label, apparently.
Two of Rabauw's finest had been inserted into my birthday parcel as well: the Witte Woestaard (White and/or Wheat Ruffian) and Trotse (Proud) Tripel. As far as I'm concerned, neither merit superlatives in terms of pour, palate and finish so I will jump straight to the company motto – "Rabauw is beer for adventurers. For those who want to meet new people. Every day. Everywhere. For those that say: come, have a seat and drink with me. To an unchained existence. And tell me your story. I'm listening."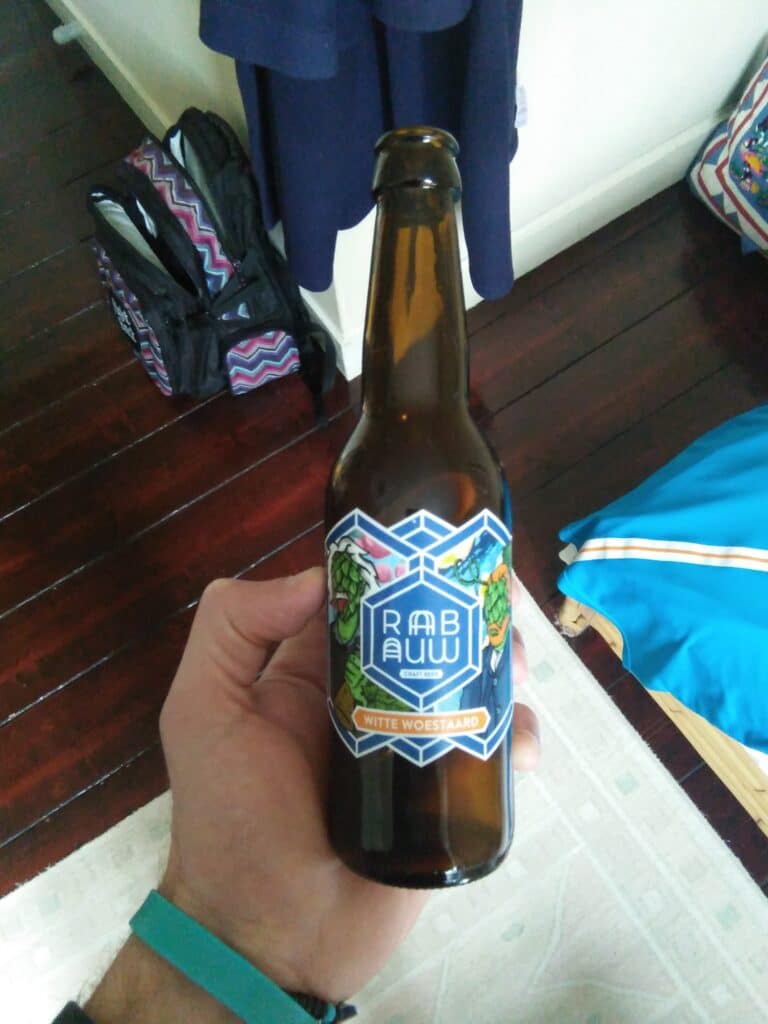 Only Two Cents Left
Instead of listening, I would strongly urge Rabauw and some of the other breweries mentioned above to communicate their own, often inspirational stories more clearly, if only for diversity's sake. But then again, maybe generic promises of thrills and togetherness are exactly what Brabantians, and Dutchies in general, want to hear. Maybe these constant reminders that life is to be enjoyed, not merely endured, are meant to inspire us northerners to break the shackles of "our" Calvinist roots. Or maybe, just maybe, predictability is of the essence when attempting to get a foothold in a society that brought forth the saying: "Just act normally, that is already crazy enough." If this is indeed the case, you can expect another divide to appear on the map of the Netherlands in due time: A great big wall around my house, Calvinist-proof and fortified against banality.