September was already well underway by the time I made my first trip outside of the Netherlands in 2020. This has as much to do with the pandemic as with the fact that my mother is in poor health. Following months of intense treatment, she received the green light to travel, leading us to pounce on the opportunity to spend some time with my brother and his family in the UK.
As soon as our flights had been booked, I notified two of my dearest friends – both of whom currently reside in London – that I would be making a cameo on their side of the English Channel. Since my brother's family live in a small community on the estate grounds of an old manor house, all parties involved deemed it safe for the three of us to organize a little get-together on said grounds. Moreover, an Indian summer had been forecasted for the entire duration of our stay so it was highly unlikely that my friends and I would be forced to congregate indoors at any point during their visit. And so a date was set for our socially distanced rendez-vous.
Several days prior to our departure from the low lands, I had a chat with one of the friends in question and expressed my enthusiasm at the prospect of sampling some more Adnams Ghost Ship Citrus Pale Ale, the likes of which had been introduced to me by the other member of our close-knit triad during my last trip across the Channel. It had been nothing more than an offhanded remark, something along the lines of "I'll definitely have to ask my brother to pick up a few of those…", but genuine nonetheless.
Ghost Ship takes its inspiration from a 600-year-old Adnams pub called The Bell, which is claimed to be haunted, located in the village of Walberswick along the Suffolk coastline. It is brewed with a selection of malts, including Pale Ale, Rye Crystal and Cara, and is infused with Citra and a blend of other American hop varieties to create subtle yet distinct citrus flavours. Its assertive bitterness is refreshing, rather than overpowering, and is complemented by a moderately malty backbone. All in all, I found it to be a very well-balanced beer, equally suited for each of the four seasons. Furthermore, at 4.5% ABV, it struck me as a perfect option for daytime drinking and it goes without saying that I was keen to put this theory to the test.
A couple of days after our arrival in London's western outskirts, I received word that a 5 litre keg of Ghost Ship had been purchased for the impending reunion. This was obviously excellent news in itself but the desire to be in the company of old friends had also been amplified by a series of events that had taken place over the course of the previous days.
I shall not bother you with any details but feel I should reveal that I have never been particularly fond of family gatherings. In an attempt to physically remove myself from a potentially explosive situation (a tall task when one is subjected to quarantine requirements…), I had taken to meticulously surveying the 75-odd hectares of land surrounding the manor house and adjacent cluster of residences during the day. After dinner, I retired straight to my room and immersed myself in a splendid Anthony Burgess narrative. A delightful bugger in his day, no doubt, and my only source of comical relief in an otherwise tense environment. Thankfully, I had the assurance that more enjoyable interactions would soon manifest themselves.
The reinforcements showed up around lunchtime on a clear Thursday afternoon, exactly one week into my stay. We found ourselves a secluded spot on the highest point of the grounds, one that offers a panoramic view of the London skyline and its most prominent feature: The Shard. That ghastly abomination, suggestive of a shank piercing the heavens, as if it were attempting to stab God. How very fitting for a city riddled with knife crime.
The designated keg master sterlised his hands, readied the built-in tap and poured a hearty amount of hazy amber elixir into our tankards of choice. And then we said a toast to 17 years of friendship. My first swig tasted absolutely divine. The stuff was even better than I had led myself to remember! Perfect temperature too, thanks to the keg master, who'd had the foresight of bringing along a portable cooling element in the form of a block of ice that had once been a two litre bottle of milk.
Engrossed in shared memories and tales of more recent escapades, our second and third helpings were emptied in no time. Halfway through the fourth round, our sanctuary was swarmed by an army of red ants, forcing us to relocate to another secluded spot further down the hill.
With The Shard no longer in sight and round five in full swing, the topics of conversation became even more esoteric. The women in our lives, grief, uncertain futures, mountaineering…no stone was left unturned. The keg master poured another round and, much to my amazement, declared that we still had a bit of drinking to do.
Encouraged by the notion that our keg appeared to be possessed and our flow of Ghost Ship may very well prove to be limitless, the merriness truly set in. Certain well-kept secrets were revealed, certain long-held assumptions were confirmed, and 17 years worth of camaraderie was further solidified in nods of understanding and laughter of the purest kind.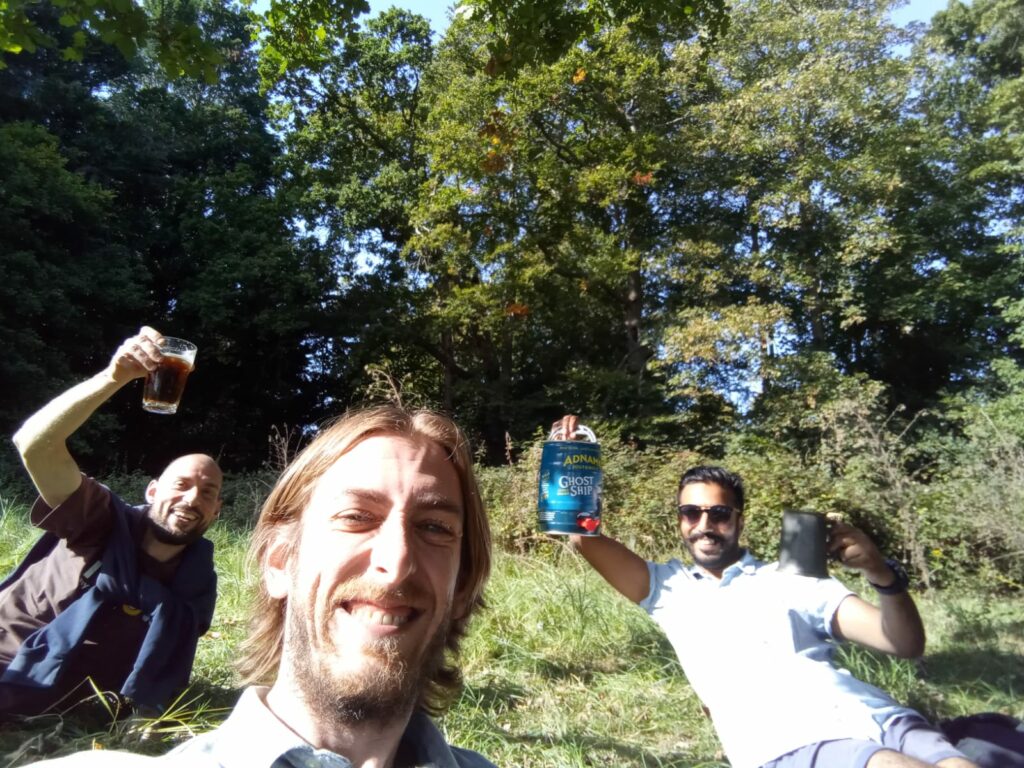 After two or three more refills, the keg started making a spooky hissing sound, as if it were giving up the ghost. Also very fitting. Even so, the keg master miraculously succeeded in pouring one last round for the road. A compulsory meet and greet with my family was still on the cards and we had some serious sobering up to do beforehand.
In an attempt to regain a certain degree of presentability, the three of us resorted to roaming other secluded sections of the grounds. The tricky terrain and a lack of fine motor skills initially resulted in a tumble here and there but we were ultimately able to regain full composure within an hour or so.
During our short stroll back to civilization, it dawned upon me that it was coming up to dinner time and that I had barely eaten all day. I was far from famished, however – on top of providing replenishment for the soul, all that ale had also offered ample sustenance.
Pleasantries were exchanged outside my brother's house in compliance with social distancing regulations and it was practically dark by the time I accompanied my friends back to the entrance gate. I had to refrain myself from hugging them and was forced to resort to mere words of appreciation and gratitude for their company on that day and their support throughout the years. It felt like a very unnatural way to say goodbye.
I watched them walk down the main road for a minute or two before moseying down the hill in the opposite direction with a smile on my face and tears in my eyes, a single line flashing through my head: You are not alone.