I first visited Vietnam in 2016. It was sometime towards the end of May, if I remember correctly. A close friend of mine and his better half had taken a leap of faith several months prior, trading their cosy existence in Kuala Lumpur for new adventures in Saigon. I myself was coasting through the final stretch of an employment contract that was coming to a premature end (by mutual consent, for the record…) and still had a good two weeks' worth of paid leave at my disposal. It only made sense that the bulk of this respite should be spent seeking adventures of my own, preferably somewhere I had never been before.
Having heard numerous tales of Vietnam's natural beauty and cultural charm, the destination of my pending hiatus was easily decided upon and I eventually made arrangements to spend two long weekends in Saigon interposed by a three night stay in the seaside city of Nha Trang.
My first weekend in Saigon proved to be a spiritual awakening of sorts. I found myself spellbound by the sheer energy of the place; the cacophony of its streets, the undeterred resolve emanating from the eyes of its inhabitants. It was as if I had been transported back in time to the South East Asia of my youth, to Sukhumvit (a district in Bangkok) before it was condemned to perpetual dusk by the construction of an elevated MRT (Metropolitan Rapid Transit) line or Yangon in the days that Aung San Suu Kyi was still under house arrest. (Note: This piece was written in October 2020. Just over a year later, at the time of publishing, Aung San Suu Kyi is reportedly under house arrest again.)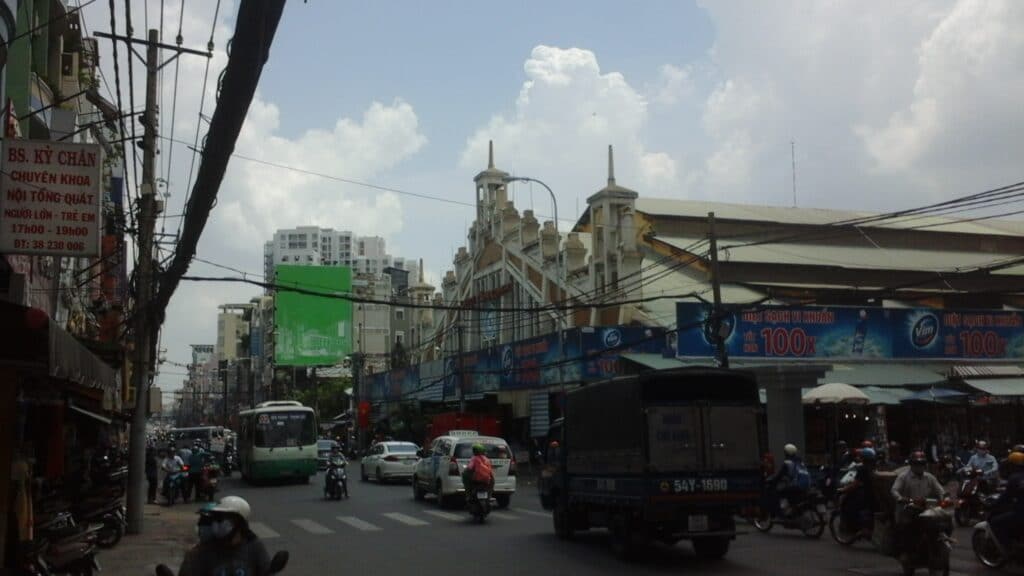 The aroma of enticing dishes and strong coffee wafted through exhaust fumes, a refreshing breeze set in whenever the heat was on the verge of becoming unbearable. Always the yin and the yang. There was an array of decent local beers that had also proved helpful in keeping me cool and hydrated, my personal preference going to the Saigon Special.
One of four bottled beers produced by the Saigon Beer-Alcohol-Beverage Corporation, more commonly referred to as SABECO, Saigon Special is a lager brewed entirely from natural ingredients: malt, hops, yeast and water. No preservatives are added. It further stands apart from its SABECO siblings in the sense that it is prepared with a 100% malt formula and thus does not contain any rice.
The traditional long fermentation process is applied, generating a smooth flavour with a mildly bitter aftertaste (somewhat reminiscent of Grolsch…) and an effervescent clear tone. Not quite special enough to warrant its name but certainly a solid effort, as far as I'm concerned. A fine introduction to Vietnam. Albeit enchanted by Saigon, I could already see myself in a reclined position overlooking the South China Sea, sand between my toes and a Special within reach.
I arrived in Nha Trang much later than anticipated on a Tuesday evening, compliments of VietJet. Despite only being a one-hour flight north of Saigon, our travel time had been quadrupled by a series of delays on the ground and it was already long after dark when I checked into my bed and breakfast.
Based on my mood at the time of booking, two days earlier on a hungover Sunday, I had opted to put myself up near one of Nha Trang Bay's less vibrant beaches, located approximately five kilometers north of the city's commercial centre. In many respects, this turned out to be an excellent decision. The B&B was in fact a ring of semi-detached, single-room bungalows built around a well-maintained garden and small swimming pool. My room looked so pristine, I could not help but wonder whether I was its inaugural guest. Furthermore, the pancakes served at breakfast were top-notch.
Having somehow failed to notice the B&B's proximity to the beach the evening before, I was delighted in hearing the sound of waves gently colliding with terra firma as I stepped out onto the street after devouring my pancakes. Less than a minute later I stood at the water's edge. Murky and dotted with plastic bags, there was not a single soul splashing around in it. No matter, the beach itself stretched several kilometers to the north so I went for a long walk instead of a quick dip.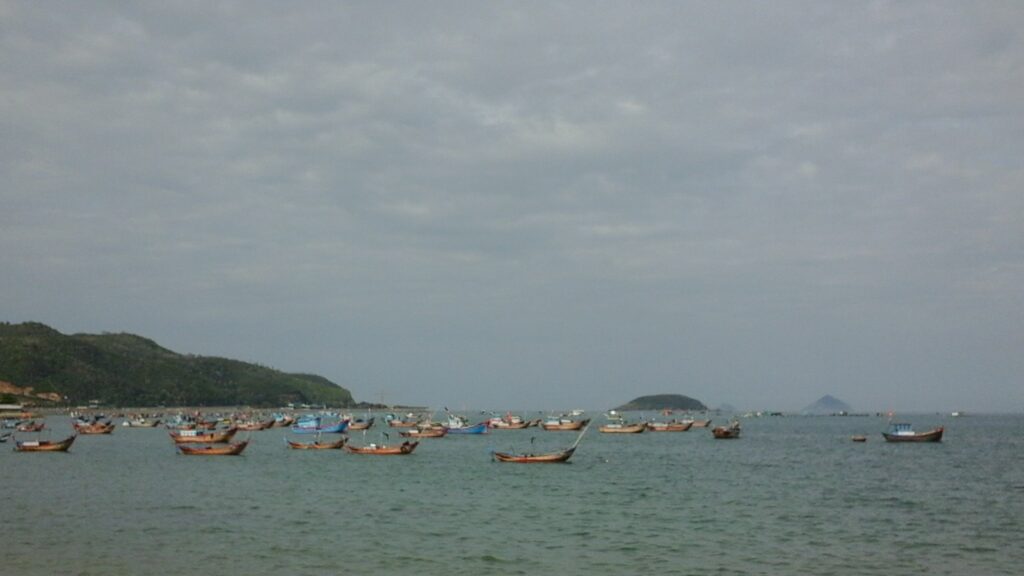 I was enjoying a late lunch at a minuscule restaurant just down the street from the B&B, selected because they served Saigon Special, when a middle-aged man with a big smile radiating an incomplete set of crooked teeth approached my roadside table. He introduced himself as an English teacher from some indistinct place in Vietnam's hinterland and invited himself to join me. I never did catch his name. Seated on the tiny wooden stool next to mine, he explained that he was on a coastal getaway with a group of colleagues, blasted folk that preferred shopping over drinking. His pronunciation was immensely perplexing.
He ordered a round of Specials along with a couple of his favourite snacks, immediately settling the bill with much fanfare, and repeatedly expressed his joy at having crossed paths with me. The universe always brings like-minded individuals together or something along those lines. I was inclined to agree with him on that point but I was not yet convinced that this encounter was indeed a stroke of serendipity.
On the other hand, he did seem genuinely good-natured and his over-excitement was more endearing than exasperating. The poor fellow's probably just desperately bored, I told myself. I was in the middle of enquiring whether he could recommend any good seafood restaurants nearby when he received a call from one of his dull colleagues. Following an extensive and unnecessarily loud exchange in tiếng Việt, he enthusiastically proclaimed that I had been invited to join his crowd for dinner.
I expressed my hesitation but eventually succumbed to an onslaught of unintelligible pleas and praise. He finished his beer, announced that he would have a nap in preparation of the impending feast and merrily strode off in the direction of his hotel, where I was to meet him a few hours later. I decided to stay put and have another Special, this time in peace.
The thought of simply not showing up had crossed my mind but my curiosity had gotten the better of me. I had managed to convince myself that, at the very least, I was bound to learn something new about Vietnam and its people. My host and a handful of other educators were already waiting on the steps of their hotel when I arrived. In the former's defence, they did strike me as a bland bunch.
We systematically bundled ourselves into a grey minivan and headed southward along a coastal road in the direction of Nha Trang city center. Barely a word was spoken. Within twenty minutes we had reached our final destination, which turned out to be a night market. My host took me by the arm and guided me away from his colleagues, providing a confusing description of their "shop first, eat later" policy that he refused to ascribe to. He led me to a restaurant with tables strewn out across an open courtyard with a tamarind tree in the middle, a pleasant enough place.
An apathetic waitress forced herself to take our drink orders. No Saigon Special?! Yes, yes…Tiger would do. My host started drinking at a rapid pace, delivering one bewildering toast after another. I had to remind him that we had yet to order food. A high octane dialogue with our increasingly disgruntled waitress, who was tending to another table on the opposite side of the courtyard, revealed that we had missed out on the catch of the day and that we could only be served some basic side-dishes. Or so I was regretfully informed.
Our supposed feast would end up consisting of instant noodles mixed with an assortment of steamed vegetables draped in oyster sauce. I stomached as much as I could but threw in the towel when a humongous black rat scurried past the tamarind tree. My drinking buddy ate very little but was visibly pleased with the whole situation.
Before long he had become practically indecipherable. It had, however, become clear that I was going to be paying for dinner. This set me back around 400,000 Dong, roughly the equivalent of 15 Euros at the time, a fairly small amount considering the quantity of beer that had been consumed but I was low on cash as a result.
Our waitress gave us a cynical wave as we exited the courtyard, by now completely empty, and my buddy muttered something about finding another drinking hole so that we could continue our bonding session. I let him know that I was done for the night and hailed a taxi to ask how far the spare change in my pocket would get us. Not far at all, apparently. Fortunately, it was a clear night and there was a gentle breeze coming in from the sea – splendid conditions for a lengthy stroll.
My drinking buddy did not agree with my chosen course of action and expressed his indignation by hurling insults at me, stating he had never been more wrong about a person's character and that he wished he had never spotted me walking on the beach. Beach?! Good grief, my instincts had been on point from the get-go! The universe had very little to do with my predicament; I had been ambushed!
It all started making sense…the silent group of educators, the grumpy waitress, the reluctance of the taxi driver to let his meter run until my money ran out. My companion was a bona fide drunkard and a degenerate, the type of person that casually makes enemies wherever they may go, and his colleagues had used me as a decoy so that they could shop in peace for once. Such deceitful behaviour, on so many levels! I wanted this adventure to be over and done with as soon as possible.
My companion struggled to keep the pace and that was my intention. Now it was his turn to suffer. He repeatedly pulled sprints to catch up with me, panting about how we were heading in the wrong direction every time he reached my side. I calmly clarified, time after time, that I had observed the sea on my left-hand side whilst en route to the city center and the fact that the sea was now on my right-hand side meant his fears were unfounded.
At a certain point his concerns shifted to the distance we had left to cover and I spent the final half-hour of our trek telling him that we only had five more minutes to go. By the time we reached his hotel, he was wheezing and had developed the complexion of a ghost. He sat down on the front steps and let his head dangle between his knees as if he were about to disgorge. In stark contrast, I had sobered up and no longer felt bloated. I gave him a vigorous slap on the back, told him to take care of himself, and left him there. Yin and yang were in balance once again.
I came to the conclusion that it would be best if I kept a low profile on my last day in Nha Trang and only strayed from the sanctity of the B&B for meals. With the stealth of a ninja, I swung by the neighbourhood convenience store to pick up a few bottles of Saigon Special after lunch. I would spend the remainder of the afternoon lounging at the poolside, drinking beer and reading Gabriel Garcia Marquez. Much to my relief, nobody joined me.
I traveled back to Saigon the next morning and spent another long weekend in awe of its vitality. I would end up returning some six months later and staying for close to a year, a period during which the Special became a staple of my diet. I explored other parts of Vietnam whenever possible, becoming accustomed to VietJet's propensity for tardiness in the process, but did not see any reason to return to Nha Trang. Balance had been restored, after all, and some adventures are better relived in verse than in person.