Although I have never had the pleasure of visiting Norway and do not have so much as a single Norwegian acquaintance, let alone friend or foe, I recently learned a splendid Norse expression. Utepils (pronounced "oo-te-pillss") is a compound word that has no direct English translation; ute means out, outside or outdoors, and pils refers to pilsener beer, otherwise known as lager.
While the term is most commonly defined as the act of sitting outside on a sunny day and simultaneously enjoying a beer, it can also be interpreted as more of an emotion. For instance, there are those who associate utepils with a very personal and much anticipated annual ritual. That is to say, the sense of satisfaction that comes with drinking the first beer of the year out in the open air in the wake of a long, dark winter.
In Norway (and countless other places, for that matter…), venturing outside after months of climate-induced confinement is of the essence when attempting to soothe and replenish one's frigid soul. Any opportunity to rejoin a former self under the springtime sun should be grasped and savoured, and cracking open a cold one when you finally get to do so further enhances the experience. Whether it be in the company of family and friends or on your lonesome, it is widely regarded as a pivotal juncture, when drawn-out anticipation culminates in inner elation.
The Circumstances
When applying the latter, broader definition, my utepils of 2021 was consumed on the 24th of February. Due to the benevolence of the Gulf Stream and the warmth it disperses across much of Western Europe, we are exposed to considerably less harsh winters over here in the Netherlands than those encountered by our Central and Eastern European counterparts, not to mention our Nordic brothers and sisters.
For example, the average temperature in Amsterdam during the second month of the calendar year is circa 3°C compared to that of roughly -2.5°C in Oslo. Moreover, Amsterdam is blessed with an extra hour of daylight throughout this particular period. These distinctions also prevail, in varying degrees, from October through January and then on into March, somewhat diminishing the likelihood of developing a severe case of the winter blues in the Netherlands as a result.
Nevertheless, having been born and raised in the tropics, I generally refrain from participating in too many outdoor activities until late March or early April. Post-equinox, in any case. This year, however, was different – this year we were treated to an early Spring. On the aforementioned date, the day in question, the thermometer rose to an unprecedented 18°C in my home town.
This was nothing short of extraordinary in itself but I should also mention that, only two weeks prior, the Netherlands had been covered in a ten centimetre thick blanket of snow and daytime temperatures as low as -5°C were recorded. Granted, this equally uncommon, once in a decade winter wonderland experience had lasted no more than a week and would undoubtedly be scoffed at by the average Norwegian but it did set the tone for my own deep, albeit wary, appreciation of the extreme climatological aberration that was to follow.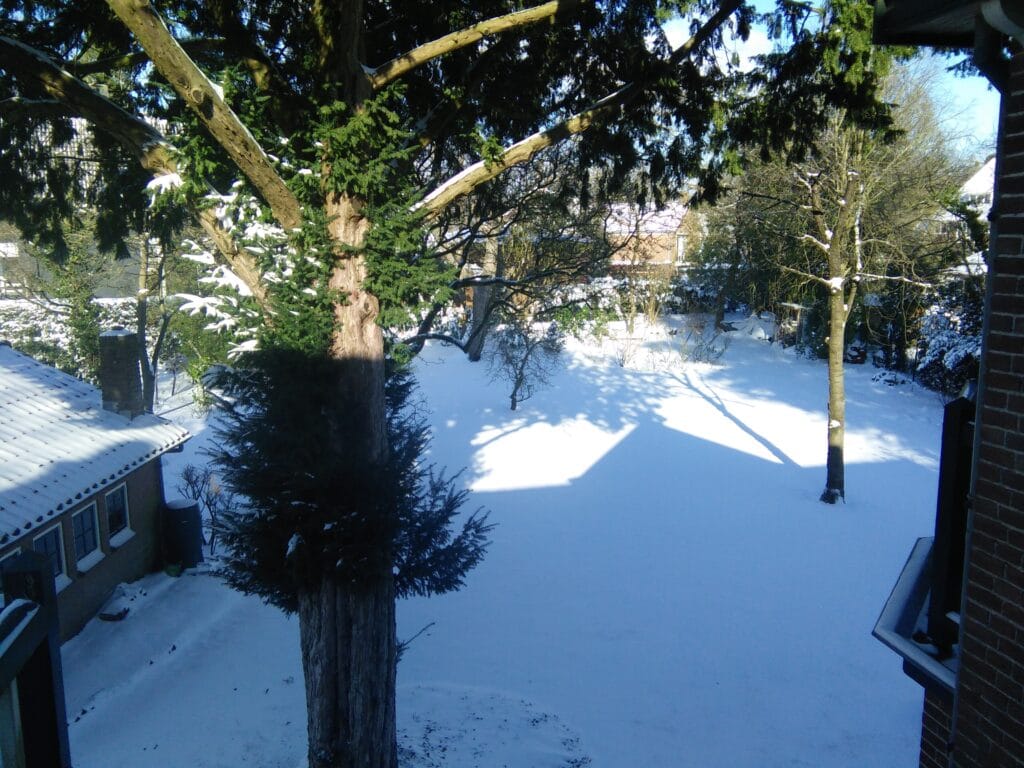 The Setting
All my life, I have considered myself immensely privileged to possess the keys to a family home with a sizeable garden. When I was a little boy, I spent much of my summer vacations playing football in the backyard, honing my dribbling and shooting skills whilst enacting scenarios which saw me lead the Dutch national team to that ever elusive victory at a World Cup final. During my teenage years, my friends and I would often seek out one of the plot's more sequestered spots and partake in various activities that were explicitly forbidden by our parents.
Fast forward to contemporary times and the garden is proving to be a greater blessing than ever before. Not only does self-isolation become far more bearable when one has ample space at their disposal, the required upkeep of that space also provides a certain amount of variation in day-to-day tasks and offers a non-projective physical outlet for any stifled frustrations.
Apart from its practical benefits, and above all, our garden is a place of outstanding natural beauty, sheltered by trees that predate the hundred-year-old house it enfolds and always brimming with life. In the run-up to the day in question, when mother nature became so disoriented that daytime temperatures increased by a margin of almost 20°C within the space of a week, she decided to use our garden as a podium for yet another one of her spectacular shows.
For the very first time in my recollection, the entire front yard and large sections of the back had turned into a colourful carpet of wild crocus flowers and snowdrops, this time of the Galanthus type. That same bedazzling spread of purple and white would become the setting of this year's utepils.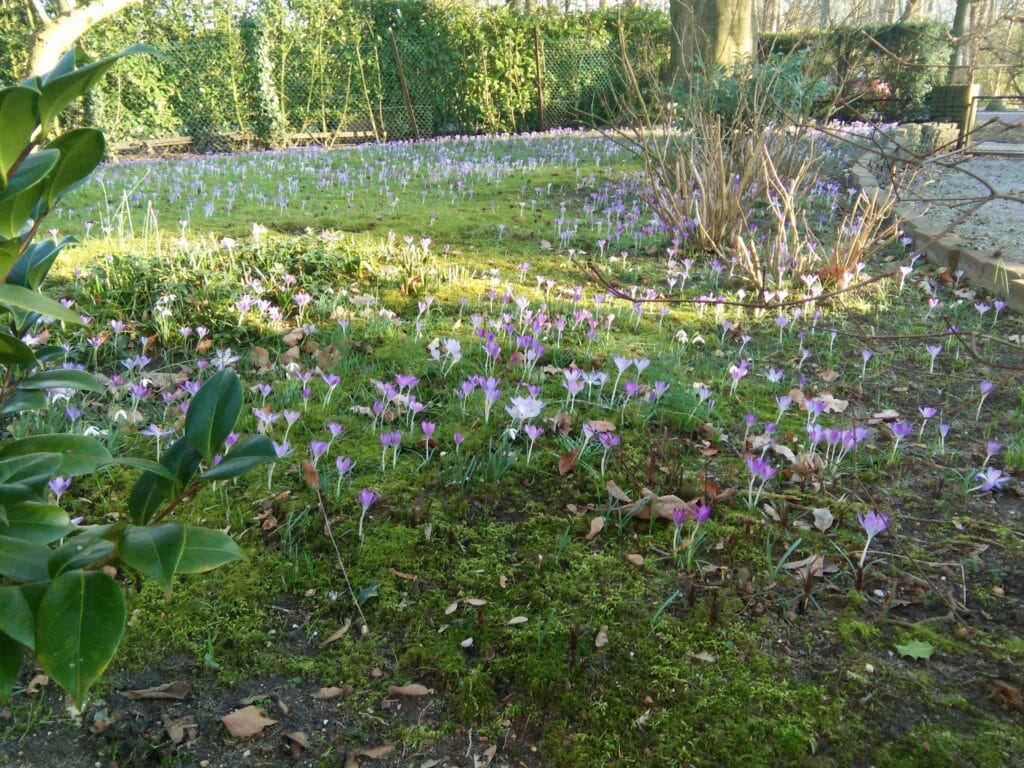 The Chosen One
My utepils of choice happened to be a bottle of Tripel Karmeliet, arguably one of Belgium's most famous beers and rightly considered to be a modern classic. Concocted by the Bosteels brewery located in the Flemish town of Buggenhout, some twenty kilometres north west of Brussels, this robustly delicious brew was first introduced in 1996 and became internationally renowned after being declared 'World's Best Ale' at the World Beer Awards in 2008.
The exposure that ensued this recognition of craftsmanship is said to have prompted sales to skyrocket to the extent that, for a while, there was a global shortage of Tripel Karmeliet. For those reluctant to believe such a seemingly tall tale, and I fully understand your scepticism, I can assure you that the possibility may not appear so far-fetched once you actually find yourself drinking the stuff.
Even though Tripel Karmeliet is a relatively new beer, the recipe on which it is based has existed since 1679. That was the year when the friars of the former Carmelite monastery in the town of Dendermonde, just up the road from Buggenhout, started blending nature's gifts of barley, oats and wheat to produce a multi-grain beer. The modern-day adaptation contains spices and flavours that are bound to have been beyond the friars, along with the concept of bottle re-fermentation, but their original idea lives on in style.
Tripel Karmeliet is instantly recognisable in looks as well as taste. It has a deep golden colour, topped with a creamy white head. Put to the nose, it offers a complex odour of vanilla mixed with herbs and citrus. The addition of wheat and oats into the grist – the malt crushed to make mash for brewing – gives the beer a uniquely crisp savour that is bitter, sweet, fruity, and hoppy, all at once. If your palate is anything like mine, it will tantalise your taste buds and you will not hesitate to pour another.
Proceed at your own risk though, the term 'Tripel' does not refer to the use of the three grains. On the contrary, it is a general denomination signifying the use of three times the amount of malt in the wort – the sweet liquid drained from the mash of grains that is subsequently fermented to make beer (and whiskey…) – eventuating in a higher ABV. The application of this method leaves Tripel Karmeliet with an alcohol percentage of 8.4 so, keeping that in mind, you might want to pace yourself. Or not.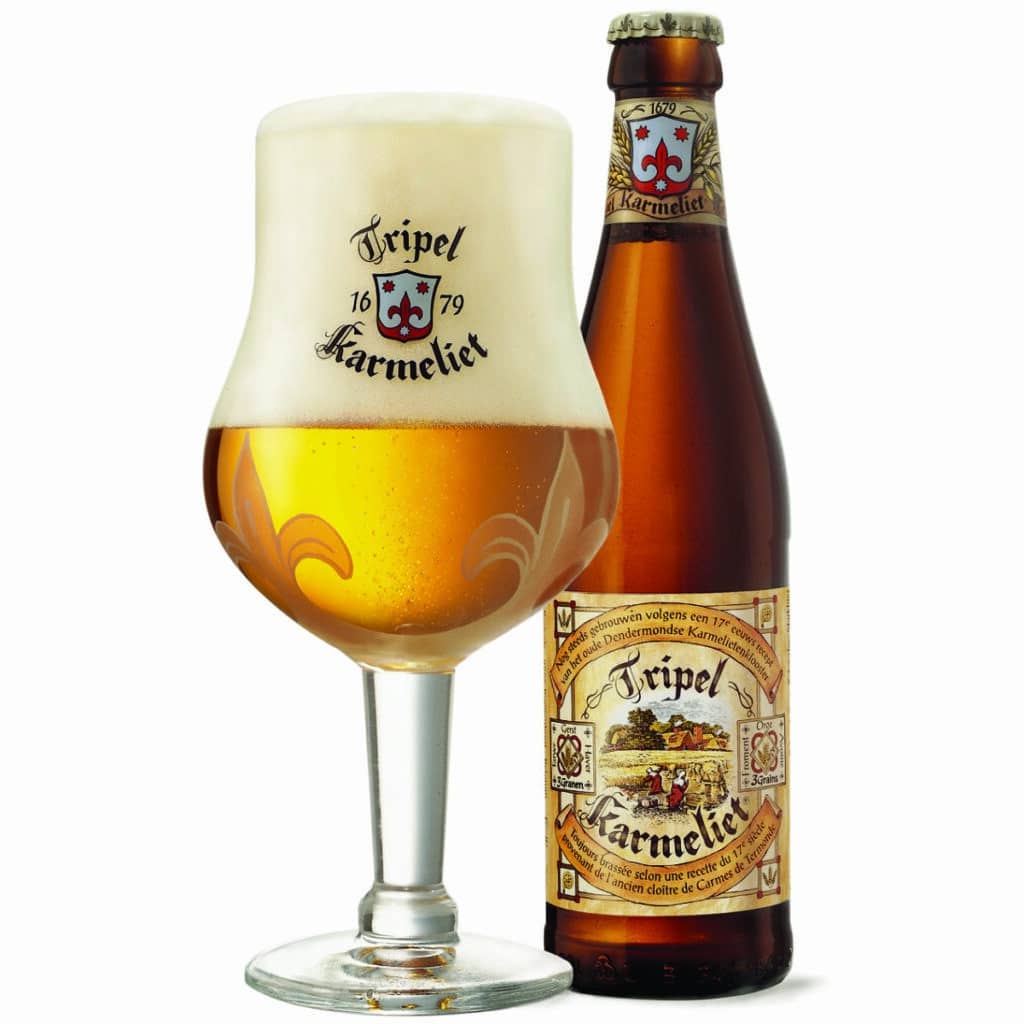 The 'Moment Suprême'
On the day in question, I myself was in no mood to binge. I ventured out into the backyard after lunch, positioned myself on the soft lawn moss amongst a plethora of blooming wild flowers and in full view of the sun, and spent a good two hours sipping on the contents of a single bottle of Tripel Karmeliet. Two friends of mine joined me in a shameless breach of the nationwide pandemic protocol in effect at the time, which stated that individual households were not permitted to receive more than one outside guest per day.
We talked about this and that and global warming, as one does when consciously experiencing the warmest February day now on record in the Netherlands. I had watched an enthralling documentary about keystone species – organisms whose presence and role help define entire ecosystems to the extent that their absence causes these ecosystems to collapse – the evening before and expressed my conviction that the strategic re-introduction of some of those species in certain parts of the world could potentially help combat the effects of climate change.
I was also forced to admit that the rewards of this approach would take decades to reap and, well, nobody has time for anything but instant results these days. Natural regeneration is great and all but technological solutions, spurred on by perpetual economic growth, are the absolute apex of human achievement. In order to advance, we must continue to destroy what we cannot control. And so it shall be: The anticipation of utepils in January, then December, and finally on Mars.