[Updated 14 February 2022] As the COVID-19 pandemic continues to affect daily life in Thailand, please call or message each of these venues in our Chiang Mai craft beer guide to ensure they remain open/serving.
Chiang Mai, one of Thailand's most picturesque and unspoilt cities, is firmly on its way to becoming a craft beer tourism destination.
Due to Thailand's restrictive brewing laws, much of the craft beer sold in Chiang Mai is brewed in its neighbouring countries such as Vietnam and Cambodia. One has even started its first contract craft brew imported from Japan, emphasising the unusually global nature of the local craft beer scene.
Despite the distance from brewery to draft taps, the beer still tastes fantastic. The tap systems are in excellent shape, and beer servers are knowledgeable. All of this is a testament to the skill and passion of the local craft beer community.
After a trip by the Beer Asia team to Chiang Mai in 2019 explore what the city had to offer in terms, we discovered it is also the home of some of the friendliest craft beer personalities we've met in the region.
From Sommart, one of the co-owners of My BEER Friend and a true gentleman, to Cheewasat Polpisit, the owner of the fantastically named Parallel Universe Of Lunar 2 On The Hidden Moon, whose passion for beer and brewing was contagious, we constantly met amazing people simply by showing up in bars and having a chat.
If you are asking 'where can I find craft beer in Chiang Mai?', then you have landed on the right guide!
To save this map, click on the star next to the map name above. You can access it anytime from your computer or smartphone.
---
The Grumpy Old Men: My Beer Friend Taproom
This is a must-visit bar for craft beer fans passing through Chiang Mai. Understated from the outside and located in a car park, the moment you walk inside you'll feel the magic.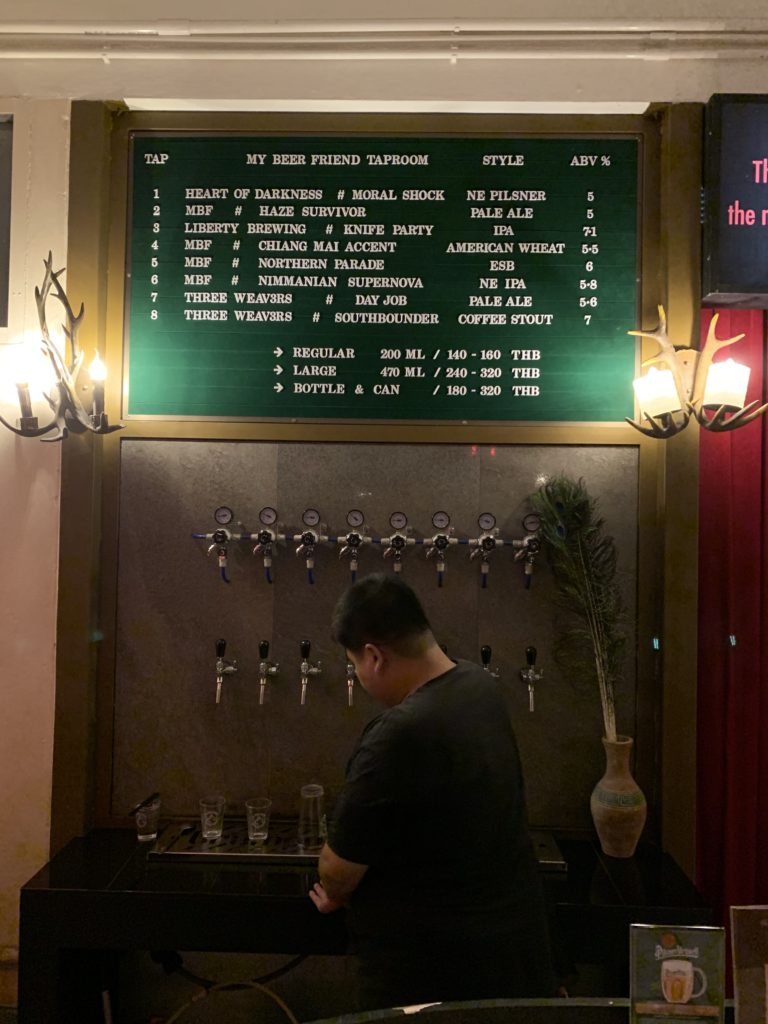 From the eclectic decor and one of the largest CD collections you will find these days to an eye-catching beer menu & tap system, The Grumpy Old Men is much more unique than your typical taproom.
The beer is excellent too: My BEER Friend had four draft taps and the beer is of a high standard. It was also a pleasant surprise to see a taproom also acting as a craft beer outpost for Kiwi, American and Vietnamese brewers.
My BEER Friend Market
My Beer Friend Nimman
Yes, that is the real name of one of the most legit craft beer bars in Chiang Mai.
The bar's proprietor, Cheewasat Polpisit, was an absolute legend. Warm and friendly, he was an excellent host including sharing a beer with us.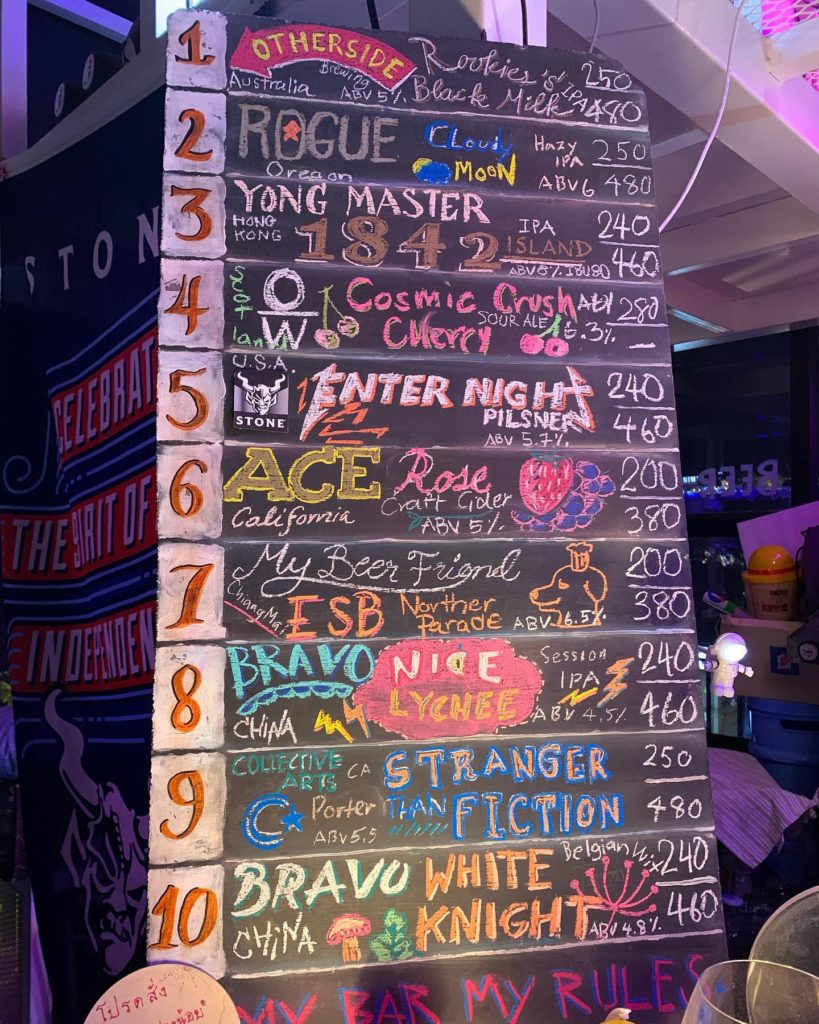 The bar mostly serves imported craft beer, but the range and selection is excellent. This was also the first time we had the chance to try craft beer from China!
Namton's House Bar
Archers Restaurant & Bar
Renegade Craft Beer & Billiards
Ugo Restaurant & Thai Craft Beer Bar
The Beer Chiangmai
Beer Lab
Mind Cafe
A fantastic, friendly venue serving a variety of local craft beer.
No.9 Hostel & Cafe
Beer Terminals
The Riverside Bar & Restaurant
Just Beer Warehouse
Beer Walk In
Number 1 Cafe Bistro
My Place Lounge Chiang Mai
---
Self-Guided Chiang Mai Local Craft Beer Tour
To explore craft beer in Chiang Mai, click on the star next to the map name above. You can access our self-guided Chiang Mai beer tour anytime from your computer or smartphone.
---
Other Guides To Beer in Chiang Mai
12 AWESOME Craft Beer Bars In Chiang Mai, Digital Tourist (2020)
The 7 Best Craft Beer Bars In Chiang Mai, Big 7 Travel (Oct 2019)
Cocktails and craft beer: the coolest bars in Chiang Mai, Lonely Planet (June 2019)
The Best Bars to Drink Craft Beer in Chiang Mai: A Handy Guide, Bodega Hostels (Mar 2019)
Cafe culture and craft beer in Chiang Mai, South China Morning Post (Mar 2019)
---
Subscribe to receive the best monthly updates on new beer, brewers & breweries in Asia!
Thanks for reading Beer Asia's Chiang Mai Craft Beer Guide! Living in a different city and want to better explore your local craft beer scene? Check out our other Guides featuring Saigon, Singapore and Kuala Lumpur.