Originally published in the SEA Brew Bangkok Conference Magazine.
Asia's craft beer scene continues to go from strength-to-strength. Beer drinkers from Kuala Lumpur to Saigon and Singapore can now enjoy a tremendous variety of local and imported craft beer.
With this wonderful explosion choice for consumers, however, it has become increasingly difficult for both beers and bars to stand out.
As tap systems grow in size and beer fridges swell with rival brands, even the most resolute craft enthusiasts are constantly tempted to be disloyal to their beloved favourites.
What makes it even harder for brewers and bars alike is that the new wave of drinkers entering the category – unfamiliar with the twists-and-turns of the craft beer market – now have difficult choices before for them every time they enter venues that serve craft beer.
The Way It Was
Before this recent transformation of the craft beer market, tried-and-true advertising techniques were able to woo undemanding drinkers to repetitively drink a limited range of uninspiring beers.
For macro brewers that could afford it, integrated advertising campaigns were deployed. Television, newspapers, radio, events and promotions to win the hearts and minds of drinkers at scale.
Stella Artois were among the masters of this era of beer advertising. Crafting an advertising style that built a cinematic, French-infused brand identity.
'Last Orders' and 'Quest' are two wonderful examples of Stella Artois' strategy in action: commercials that harnessed the power of film to drive a craving for a beer!
Closer to home, macro brewers like Carlsberg & Guinness won over generations of Malaysian drinkers. The most notable was the former's iconic 'Piano' television commercial and the latter's ads that defiantly pitched Guinness' health benefits for working men.
Even when Malaysia went on to ban alcohol advertising on TV in 1995, brands were then able to pour those investments into building their visibility in on-trade and off-trade environments.
Today, emergent craft brewers now must battle with existing 'Big Beer' brands who have made extensive investments in building both mental and physical availability of their products.
Forget the fiction they're competing for a different customer base.
Every beer drinker present and future is a potential customer, irrespective of how great your product is. The Heineken's of the world have a tremendous head start!
This is where things start to get a little odd, despite craft beer as a category having an insurgent and rebellious undertone. Many firms in our industry remain stuck in no man's land when it comes to marketing.
On one hand, they try and emulate the latter-day strategies of big beer marketing, without the professional expertise, budgets or broader strategic thinking that needs to go into such campaigns.
On the other, many craft folks still have a lingering distrust of advertising as a way to build their brand and seem over-reliant on driving awareness through channel activations, partner marketing, and promotional staff.
True, better craft brewers and bars often make one-off investments into brand identity development.
Engaging label designs, bold coasters, and attractive tap decals are essential to get a foothold into the drinker's throat and spark repeat purchase down the track.
We know that many old school marketing tactics are neither realistic (budgets, anybody?) nor effective for up and coming craft beer brands in a crowded marketplace.
This is why I believe craft beer as an industry can level up our longer-term marketing strategy through the power of digital. Craft brewers, bars and publishers (including Beer Asia!) must now use digital platforms like Facebook and Google to reach out to past, present and (legal age!) future drinkers.
Craft Beer Marketing: The Digital Opportunity
As challenging as this new environment of platforms and apps might seem, there's a major advantage: you no longer need to have big dedicated advertising budgets to achieve cut through with a broader swathe of drinkers.
From search to social, drinkers increasingly use online touchpoints to guide their purchasing behaviour around beer.
As much as we can pretend those craft beer decisions are made at the bar or from offline word of mouth, the reality is your drinkers are constantly on their mobile phones.
They can log onto Untappd and rate your Session Pale Ale in real-time at the pub.
If they spot a brewer they don't know up on the bar's chalkboard, they can do a quick search to find out what other drinkers are saying about the beer.
Arguably the key driver behind this is the ubiquity of mobile phones around Asia.
From a consumer behaviour perspective, the numbers are intense. Mobile is the most important device to access internet for 76% of Southeast Asia internet users.
The craft beer category is no exception. 74% of craft beer drinkers have used a smartphone to help guide their purchase of craft beer.
This is doubly important in mobile-first countries like Cambodia, Vietnam, and Indonesia.
These fast-developing countries have leapfrogged the age of desktop and now have mind-boggling levels of mobile connectivity.
Amidst this fast transforming environment, where should you start with updating your craft beer marketing for the digital age?
It isn't as simple as building a WordPress site, buying a few banner and search ads, and setting up a basic Facebook Page.
But the good thing is that when it comes to digital, the playing field is a lot fairer in the 'Craft Beer' David vs 'Big Beer' Goliath battle.
The clearest evidence is that 52% of Southeast Asian internet users have tried using some kind of ad blocker in the past month – meaning you can't just chuck money at digital and expect to be able to reach past, present, and future drinkers.
Communicating A Distinctive Craft Beer Brand Identity Online
Whether you're holistically building your brand online or doing tactical craft beer marketing on a particular channel, the same essential principles apply.
Does your logo look great on Facebook and Untappd?
Does your website use the right fonts and colour palette that maps back to your label designs?
Is your tone of voice in your copywriting consistent across all your properties?
Stop worrying about competitors and start focusing instead on how you can make your brand digitally distinctive.
Could it be a beautiful design aesthetic that you carry from your brewery's website through to your coasters?
Or could it be connecting your brewery with local culture via storytelling and language?
Heart of Darkness is one of the region's fastest-growing breweries. Based out of Vietnam, they also have a strong presence in Singapore (with a taproom) and Hong Kong.
Heart of Darkness have created a consistent brand and visual identity system that is boldly executed from their bottle labels to their Facebook & Instagram platforms.
With a naming system that ties back to the eponymously named novel by Joseph Conrad and label designs that feel like book covers, the brand has been able to breakthrough in Hong Kong & Singapore with curious consumers.
The Great Singapore Beer Project is another example of a craft brewer that has built a distinctive brand identity based upon Singaporean culture and language.
To win over local drinkers, they've used Hokkien – the most widely spoken Chinese dialect besides Mandarin in Singapore – to name two of their beers.
The simple act of naming their Guava & Sour Plum Gose Kiam Sng Di [Salty, Sour, Sweet] not only resonates because of the use of local language, but also the potent culinary nostalgia amongst Singaporeans for preserved plum sweets.
Even if you haven't got an advertising agency building your brand or a team of talented designers, it is critical in digital that you have the consistency of fonts, colours, words and a broader cultural understanding of the market you're in.
Craft Beer Digital Branding: Two Quick Wins
Ensure your visual brand identity – logos, colours, fonts. – is consistent across your digital channels (website, Facebook, YouTube, Untappd, Instagram, etc.). You'd be surprised at how often brewers don't even correctly use their logo across different channels.
Like your visual brand identity, don't delegate your social media platform management to junior staffers.
Build a set of guidelines on tone of voice (how you speak) and a community management approach (how you respond to comments and messages). You'll thank me later, lest you want a potential crisis on your hands down the track!
Craft Beer Digital Strategy: Three Rules
I've spent more than a decade working as a digital marketing strategist. I've realized there's a serious gap between fancy PowerPoint slides developed in an office environment and the reality of what you end-target actually experience.
If you want to develop a robust, real-world strategy and plan for your craft beer business to succeed online, I have good news.
Advertising effectiveness research shows that there are solid guidelines and fundamentals behind what makes marketing (on any channel) effective.
In my work day-to-day in advertising strategy, I've found Les Binet and Peter Field's findings the most compelling and useful.
They analysed thousands of case studies of successful advertising campaigns and found what I consider to be the 'Holy Grail' of advertising strategy guidance.
Applied to crafting your digital strategy and integrating it into your broader marketing approach, I have highlighted three critical takeaways from Binet & Field's extensive research that you can use to start building out your plan:
Stop worrying about day-to-day likes on your Facebook & Instagram posts, and focus instead on building consistent, long term ideas that you can use to revitalize your digital marketing activities.

"A succession of short-term response-focused campaigns (including promotionally driven ones) will not succeed as strongly over the longer term as a single brand-building campaign designed to achieve year-on-year improvement to business success."
Expenditure on brand-focused digital marketing activities (e.g. a creative, emotionally charged campaign talking about your brewery's brand story and history) should be around 60% of your marketing budget. The 40% remainder should be directed to short-term promotions (e.g. Facebook posts driving people to your taproom):

"The IPA data suggests that the optimum balance of brand and activation expenditure is on average around 60:40, though this may vary by category and is driven by how category expenditure divides (typically 60:40): the objective is to achieve equal share of voice within brand and activation."
Develop creative, engaging long-term digital campaigns (months and years, not weeks and days) that work across all your channels instead of tactical Facebook promotions or short-term paid media campaigns on Google:

"Emotional campaigns, and in particular those that are highly creative and generate powerful fame/buzz effects, produce considerably more powerful long-term business effects than rational persuasion campaigns."
Own, Don't Rent: Why You Need A Website
With dizzying valuations and soaring userbases around the world, social media platforms are a crucial way to reach out to past, present and future customers.
Indeed, user data can be intoxicating for digital marketers and platforms.
Among ASEAN Internet users, Facebook narrowly wins out: 80.50% of log onto Facebook daily, while 79.40% use YouTube daily.
However, whoever wins this battle for advertising dollars, it won't ultimately benefit you as a craft beer business.
You're essentially paying rent to the platforms.
Unless you have a strong and compelling marketing case for spending heavily on that ties back to venues, events and sales, you're at risk of misallocating your valuable marketing investments.
Instead, you'll potentially be left with wasted investments over a long period to build 'rented' profiles on Facebook, YouTube, and other digital platforms.
Just look at Twitter.
Previously a popular channel choice amongst craft brewers, multiple craft beer businesses from around the region have 'dead' profiles that haven't posted in over a year.
This should set alarm bells ringing amongst those of you who are more focused on brewing operations and the core business of beer.
Why invest to build your brewery's presence on platforms that can become ghost towns?
This is where building your own digital hub for your business – an in-depth, well-made website that works fantastically on desktop, mobile and tablet – is so, so important.
Your site is the land you own and should be where you direct your investments as much as possible.
Rather than spending money on rent to drive people to your site, the long-term solution to build visibility is to make yourself more visible in search is known as Search Engine Optimisation (SEO).
And it is increasingly easy for your site to be discovered by searchers.
In Vietnam, in Q1 2019, search overtook television ads as the dominant way people find out about new brands and products.
This means that people are finding out about your bars and beers through Google, Bing, Baidu and other search engines, typing in "craft beer near me" and then seeing relevant search results.
To be successful in 'owning' your own website and driving traffic there via search, the focus should be to build high quality (original and well-written), long-form (300+ words per page) content that resonates.
Quán Ụt Ụt, a pioneer of craft beer in Vietnam, has a distinctive and bold brand-focused website that stands out versus the 'sea of sameness' that dominates typical web design in Vietnam and around the region.
By investing in a solid website and building out content, you're going to pay less rent to Facebook and YouTube and see greater gains from digital in the long run.
Building a Winning Craft Beer Website
Haven't got any people/budget/time allocated to building a world-class website? Start out building your website with a simple, popular CMS.
Use WordPress, Wix or a similar platform that makes it easy for you to update. It will also give a good balance in terms of built-in features: this is so you don't have to tinker around with the backend.
Make your site HTTPS by default. This is a really important feature which Google says will make your site rank better in search. Unfortunately, many brewers and bars still haven't implemented it.
Create a Google My Business account that you officially manage. Get your taproom/bar location(s) verified in Google Maps. This will massively improve your visibility and drive curious customers into your venues.
'Thumb-Stopping Power': Be More Instagrammable
If you want to win over the next generation of craft beer drinkers, get serious about Instagram.
Don't just take my word for it: 85% of 16-24-year-old Singaporeans have an Instagram account.
We are starting to see similar statistics of Instagram's rise in other Asian markets.
This is most notable in Indonesia, where the platform is firmly jockeying with Facebook for screen hours and major advertisers are switching focus.
Start building awareness and engaging millennial and Gen Z legal age drinkers.
You will position yourself strongly for future brand and business performance on social.
But what kind of content should you create on Instagram?
A common failure by brands inside and outside of beer is to duplicate Facebook and YouTube content onto Instagram.
To be truly successful, you need to focus on what Malaysia's myBurgerlab restaurant group does during their 'innovation' session.
To grade and test new burger creations, their yardstick is Instagrammability.
This means how well their burger stands out and how great it looks to someone scrolling the platform on their mobile phone.
A Southeast Asian craft brand that has done a spectacular job at building an 'Instagrammable' identity is Rooster Beers.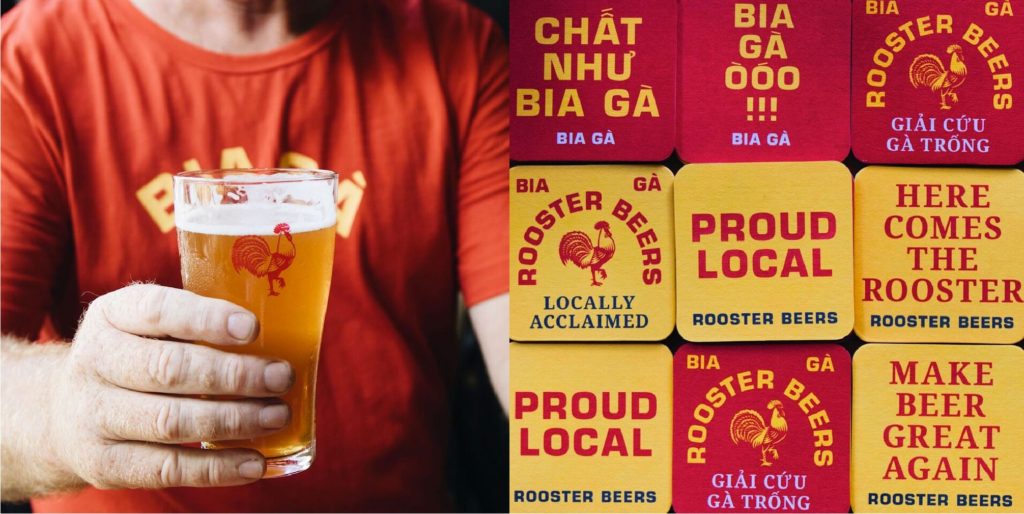 Working with a local creative agency in Vietnam, they created a highly distinctive brand identity that feels made for Instagram.
Everything from their delivery drivers through to website stand out in photos taken on a phone.
Quick Wins
Instagram is all about great photography that is authentic and engaging. Focus on bold photos that have 'thumb-stopping power'. A photo or video and caption that would make someone stop as they're scrolling their Instagram newsfeed.
Struggling to get your head around building an Instagram approach? Identify the person in your company who has a strong personal Instagram profile (ideally with great photography skills!). Work with them to start creating some simple photos.
The Final Frontier Of Craft Beer Marketing: From Content To Customers
As Texans and Illinoisans celebrate hard-fought wins around allowing take home beer, closer to home the opportunity remains untapped.
There remains a major opportunity for craft brewers and bars alike to tap into the power of eCommerce in Asia.
Asia's leadership in the eCommerce space with the likes of Lazada, Tmall and Alibaba seems to taper off when we talk about beer.
Even the big commercial brewers aren't taking e-commerce seriously in practice. Craft's performance in e-commerce is more dreadful.
Only a handful of breweries have fully begun to use their digital activities to directly drive revenue.
BiaCraft is arguably the pioneer of omnichannel (i.e. you can buy from anywhere) craft beer commerce in the region.
The Ho Chi Minh City-based brewer and gastropub chain have set-up canning machines next to their draft taps.
This allows thirsty consumers to enjoy freshly canned beer in under an hour at home or at the office simply via an order on BiaCraft's website or through food delivery apps.
This space is ripe for your craft brewery to connect digital and commerce together.
Get in amongst it and ensure that your digital marketing activities drive through to business results!
Quick Wins
Build relationships with local food and drink delivery services. See what they're offering in terms of a package to get your beer to the market.
You can experiment quickly without having to worry as much about the logistics and delivery infrastructure if you have a solid partner.
Start thinking about ways you can cleverly distribute your beer that ties into digital and mobile habits.
If your patrons don't drop by your venue on certain weeknights, consider piloting a beer subscription service where they get a growler weekly or monthly.